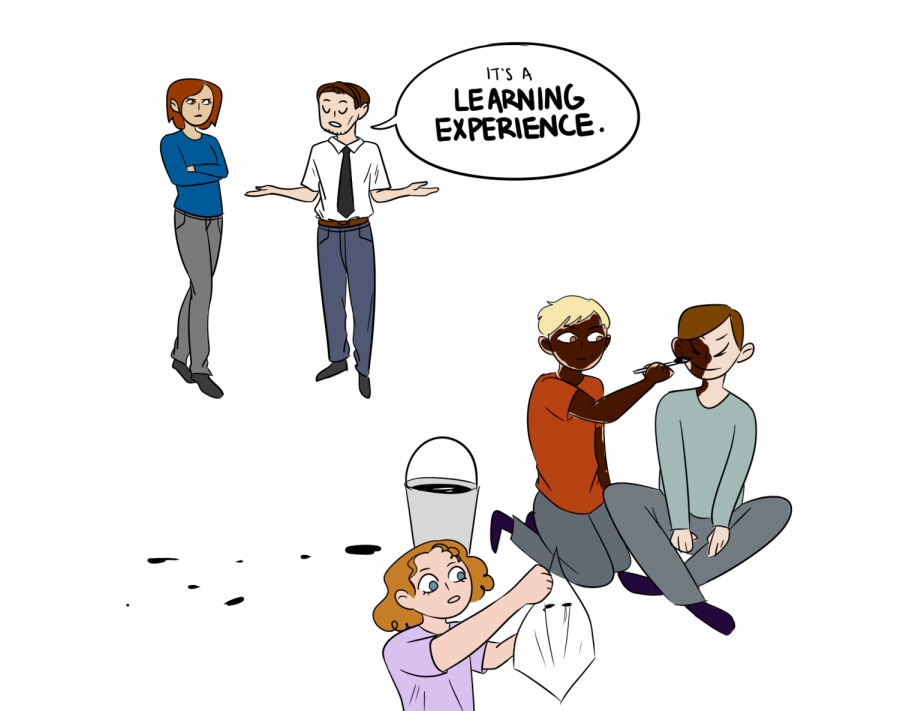 Melissa Nie
Blackface is the new winter look. In the past few months, a multitude of blackface cases in schools and politics have resurfaced. The deplorable, antiquated practice seems ever-present after an influx of yearbook photos, cellphone videos and Facebook postings. Just because blackface was less discouraged, less scrutinized thirty-some years ago, does not mean that the satirical characterization of African-Americans is anything but racist. The vast majority of offenders in these cases are men; educated, successful, and privileged men. Their supporters would like to think they're innocent out of merit and harmlessness, but that assumption is white privilege at play.
A perfect illustration is the newest blackface scandal in the political realm. Virginia Governor Ralph Northam, a democrat and a doctor, continues to resist requests for his resignation, despite bipartisan efforts to do so. In his 1984 college yearbook, photo was discovered of a man in blackface beside a Ku Klux Klan-outfitted figure. Although he truthfully claims he wasn't in that photo, he admitted to wearing blackface when dressing up as Michael Jackson at a party. Still, he refuses to resign, as if the passage of time, and his own admirable accomplishments, washes the evil from his character. That is white privilege.
Covington Catholic High School had its moment in the spotlight, too. Nick Sandmann, from the incident on the National Mall, followed due process to clear his name: writing a letter detailing his own narrative, apologizing on national television, and hiring PR lawyers to restore his reputation. But the character of the school is tainted; a longer history of racial insensitivity paints a darker picture.
For instance, at a 2015 basketball game, Covington's fan section supposedly chanted "car-a-mel, car-a-mel" during an African-American opponent's free-throw. Further back, numerous Covington students wore blackface on their face and torsos and participated in chants led by their basketball coach in 2012, all caught on video. Presumably, the school designated it a "blackout" game, where students showed up in all black to support their players. Alumni claim that this was misinterpreted as blackface. It's worth noting that Covington is an all-boys, Catholic school with a 95% white student body. That is white privilege.
Lastly, at an elite private K-12 school in New York City, a video surfaced in early January of two girls in blackface babbling like apes and jumping around to music. They were 6th graders at the time of the incident—two and a half years ago—and received no disciplinary action from the school. The matter was handled privately and discreetly. One mother stated they were simply "messing around with makeup" like "typical 12-year-olds." How could anyone prove they knew the implications of coating their faces with brown makeup?
Last month, however, a boy shared the video with the student body to shine a light on the issue. Now, he's facing a potential expulsion for violating the photo policy, and the school continues to defend the students in the incident. After all, they're paying $50,000 to attend. That is white privilege.
Clearly, the practice of blackface is alive and unscathed. Hundreds of years of history and oppression culminate in these events every day; racism has largely taken a back seat to socially just progress, but faint shadows of old sentiments arise far too often. Sometimes, they are filmed on a smartphone and shared millions of times; other times—and most times—they occur in a closed setting and leave no trace of wrongdoing.
When there is evidence of racist behavior, these administrations comb each incident for an excuse—an explanation—to call it a "teachable moment." A "teachable moment" without a punishment is like walking up a staircase only to slide down the banister. Still, a punishment lacking a lesson is, in the eyes of the punished, an empty act of animosity.
We don't like to admit it, but private school kids are much more susceptible to racial ignorance than public schoolers. Overall, the diversity of private schools pales in comparison to public schools. Naturally, it's slanted in the direction of white, middle- to upper-class families. Homogeneity breeds ignorance, allows unbridled racist sentiments, and serves as a cushion for the repercussions of those very sentiments.
As an independent school community, we need to be aware of a predisposition to racial insensitivity. We, too, are lacking in diversity; we must acknowledge and condemn racist behavior whenever possible. We can even improve upon that principle by explicitly educating students about racism, i.e. blackface, at a young age. Racism is racism, intent notwithstanding. Those acts, if not recognized as racist, will persist until the offender receives a consequence—and a lesson.