SSJ Global writes for safe college sexual assault policies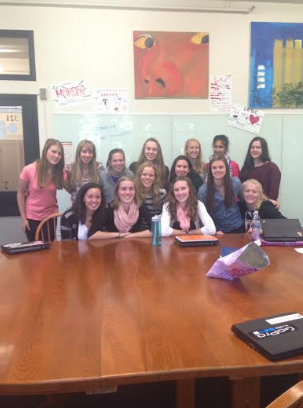 As upperclassmen start to consider what colleges they would like to apply to, they ask themselves many questions in order to narrow down their prospective list of schools. They debate the benefits of urban campuses versus rural, staying in Minnesota or going to school out of state, going to the East Coast or West Coast. But now there's a new, alarming question students will have to consider: will they actually be safe on campus?
College sexual assault policies have been under major scrutiny in recent years, causing some alarm from prospective students.
"It's scary for me, there are certain things that I look for in a college and that already narrows what colleges I want to look at significantly," sophomore Students for Social Justice Global co-president Moira McCarthy said. "I want to be safe on campus, I don't want there to be the chance that if [sexual assault] happens, there would be no one that I can talk to or nothing would be done about it or I'd even be seen as at fault. When I apply for colleges, I definitely will look into this issue," she said.
While students may be scared for their college experience concerning this matter, they do not need to remain passive about their fears. McCarthy and the other co-president of SSJ Global, sophomore Kathryn Schmechel, have come up with a way to stand up to the matter of sexual assault on campus. Enlisting the help of SSJ Global, they will begin a letter writing campaign to colleges to raise awareness about the need to update existing sexual assault policies or to applaud colleges with ones that seem effective.
"After I learned about this [sexual violence on college campuses], I just wanted to get the general community involved to try and help make a difference," Schmechel said. "It's a huge issue, when colleges don't address sexual assault and sweep it under the rug. People lose faith in the system which it makes it much less likely for them to report sexual assault cases which in turn makes it much less likely for colleges to do anything about it," she added.
SSJ will write letters to various colleges on the list of 55 higher education schools that were all being investigated for sexual violence violations against Title IX released by the Department of Education recently, saying that they are interested in applying to their school but are concerned about their sexual assault policy.
"We will look at schools' sexual assault policies and either say that we really support this, or say this is something that needs to be revisited because it's something that's really important to us as we look to apply to their school," Schmechel said.
Students in SSJ Global agree that this is a cause that merits their attention.
"I think it's really cool what we will be doing in SSJ and that writing letters is a really great idea. I definitely think we have the ability to make a change here," freshman Dianne Caravela, who recently joined SSJ Global said.
While Title IX, passed in 1972, is commonly known for establishing gender equality in athletics, it also prohibits any sort of discrimination in any educational opportunities based on sex, and requires schools to protect students from sexual violence. However, as shown by a long list of 55, many colleges are neglecting to do so. According to data compiled by the New York State Coalition Against Sexual Assault, at least 1 in every 4 college women is victimized by sexual violence during her time in school, and at least 80% of those results are made by someone she personally knows. Unsurprisingly, many students looking to apply to colleges in the near future are scared by these figures.
Schmechel, who initially came up with this idea, was appalled by not only the frequency of sexual assault cases on college campuses, but that in many cases, the victim did not receive justice and was actually blamed for what happened.
"Over the summer I went to a program where we had to pick one topic that we really cared about, and I had just recently read this New York Times article that talked about a girl who was sexually assaulted on campus and basically nothing was done. It included this list of schools that the department of education had said they were making investigations on for Title IX violations," Schmechel said.
She is referring to an article published in the New York Times this year by Walt Bogdanich titled "Reporting Rape and Wishing She Hadn't." The article talks about the sexual assault of a student at Hobart and William Smith Colleges just 3 weeks into her freshman year. After reporting the incident, the school did not focus on what harm the perpetrators had inflicted on the student, but instead questioned her on her outfit, whether or not she had been drinking, and how she was dancing, implying that the student herself was the one to blame for her rape.
Because of St. Paul Academy and Summit School's respectable reputation among colleges, Schmechel and McCarthy are hoping that the letters will have an impact on the schools. The two will make sure to do background research on the school's sexual assault policy to make the letters as compelling as possible.
"We also want the letters to focus on the college's specific policy rather than us just assuming a universal one. We want to be able to say, 'I've looked at your policy, here are some things that need work and here are some things that are good about it,'" Schmechel said.
McCarthy adds that they will try and send letters from individual people sharing personal experiences with sexual violence, instead of signing multiple names to one letter, "so these colleges aren't just getting the same format every time," she added.
Schmechel and McCarthy hope that the letters will not only raise awareness among students of this ongoing problem, but also show colleges that students really care. For the largest impact, they are encouraging the entire SPA community to get involved.
"We were thinking of having a panel where people could express their ideas or opinions in a safe environment where they feel like they can say something that they take issue with [about sexual violence on college campuses]. Also, getting people involved in the actual letter writing or any other way they can help," Schmechel said.
About the Contributor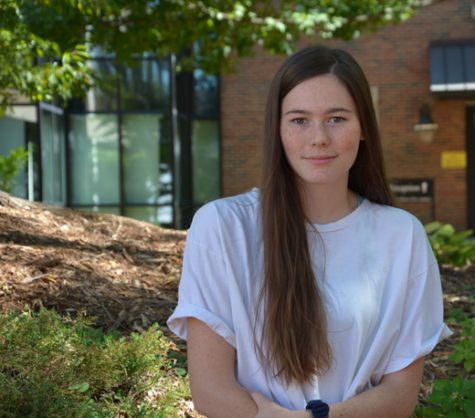 Mari Knudson, Graphics Editor / Aureus Asst. EIC
Mari Knudson is a senior member of the staff, a dedicated student athlete, and the Graphics Editor for The Rubicon this year. She is also Assistant EIC...