[SPORTS SPOTIFY] Girls varsity volleyball 'sets' up exciting season
Over the past two years, the girl's varsity volleyball team has sent a total of three players to Division 1 schools, including Blythe Rients after the 2018-19 season and both Kathleen Bishop and Arie Walker after the 2019-20 season. Without their star players, girls varsity volleyball has started their season struggling, only boasting a record of 2-4 after a hard-fought loss to Providence on the 29th. Furthermore, a mandatory 2-week quarantine was also instituted on Friday, October 30th, forcing the team to miss (with a chance of rescheduling) at least four games due to a coach's positive COVID-19 test.
Through the first five games of the season, the Spotify playlist, primarily made up of rap and throwback music, was created at the beginning of the season and remains a significant part of the warm-up and hype-up process before each game. Still, the games have not been the same, especially without fans to cheer the team on. "The playlist definitely hypes me up and makes the warm-up much more fun, but it's just hard to completely get locked into the game because of the fan restrictions," said sophomore Johnna Johnson.
Senior Ruby Hoeschen added, "I like warming up to these hip-hop and pop songs because they have an upbeat tempo that is energetic, which in turn makes me feel energetic and puts me in a good mindset for the game."
The mandatory two-week break will be a good test on the team's physical and mental toughness for when they can finally get back onto the court. With the uncertainties of the upcoming weeks, each player will have to be ready at any time for games to start up again and for the playlist to be blasting throughout the gym. Once the team's season gets back on track, their remaining games will be live-streamed due to the fan restrictions.
A full version of the playlist is available to stream on Spotify.
Leave a Comment
About the Contributor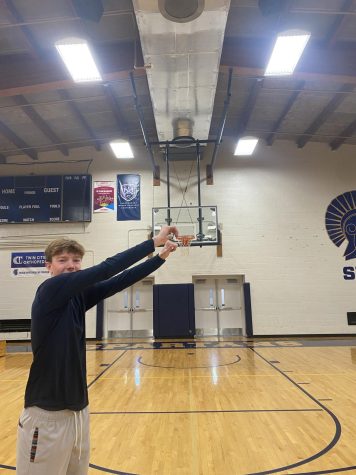 Tommy Verhey, Director of RubicOnline
Hi, my name is Tommy Verhey. I am currently the Director of RubicOnline, and have served as the Beats Manager of the RubicOnline and The Rubicon, the Sports...