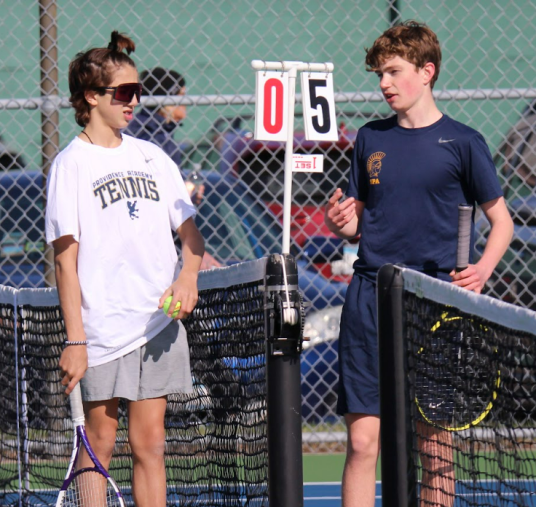 Cynthia Truitt Lynch
Navy against white. The Spartans soared with a great victory of 7-0 against the Lions. On Tuesday, the boys varsity tennis team held a section match against Providence Academy. Four sets of singles and three sets of doubles make up a total of seven matches. Each match consists of six individual games, the team that first gets to six wins the match.
Despite the slight wind and chilly temperature, the guys heated the courts up with determined shots and enthusiastic cheers that the boys varsity tennis is known for. The echoes of "Go Spartans!" rings out loud through the air, regardless of the wire fences that separate the tennis courts. Captain Leo Benson said, "There's a lot of good energy on the courts. And I think our team chemistry is really good this year and overall really strong throughout today's match. I could hear guys from like other courts cheering me on. And I was cheering on other guys. So there's a lot of fun."
Unlike this year, last year's tennis season had a really different atmosphere due to the COVID hardships. Benson said, "Last year was just a lot more felt kind of contained in a way. We had to wear masks during practice. We can't high-five, we had to tap rackets, which I think just kind of like changes the chemistry a little bit. But like this year, has been great. I think we're all so happy to be playing normally now that it's kind of making our energy go up. Last year it was tough on this, but this is a lot better." As people slowly transition back to 'normal', the Spartans tennis likewise is able to rebuild that sense of community through their determined spirit and strength.
Since it is still the beginning of the year, the Spartans boys tennis coach team Luke Elifson, Max Hommeyer and Liam Lynch fidgeted with the line-up so that all players have the chance to play on the court and gain experiments by playing different positions. Captain Harry Mahmic said, "During the season, the coaches like to experiment a lot and see where people work for sections or states. That's pretty normal, and it happens a lot."
Solid serves, angular volleys, consistent groundstrokes. Each individual game during the conference is critical as it will affect the future standings and rankings subsequently. The win against the Lions was definitely a big start that excitingly sets up the Spartans team as they continue their undefeated streak.