Sparta Award winners express appreciation for sports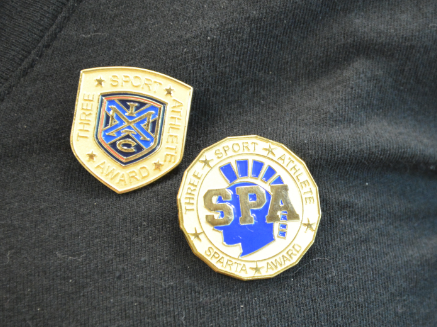 Dedicated. Committed. Determined.
These are the words that describe the recipients of the Sparta Award, an honor given out to Spartan Athletes. The Sparta Award is given to students on 3 JV or Varsity teams, the Gold Sparta Award is for those who play 3 varsity sports and the Platinum Award goes to 3-sport Varsity Captains.
As a three sport athlete, sophomore Liam McVea focuses on keeping his fitness level up all year around, even when he is not in season.
"I play club soccer three times a week, and I try to work out as much as I can to stay in shape," McVea said. This hard work is something that is common throughout all of the award recipients.
Sparta award recipients were celebrated at the Spring Recognition assembly on Apr. 27.
"It is nice to see that sports are so highly acknowledged at SPA," freshman Sparta Award recipient Jesper Salverda said.
For all of the award-winners, athletics are a significant part of their life and have taught them lessons that go much further than just on their field of play. The team environment of any sport provides an opportunity for athletes to engage with others in a meaningful way.
"Sports, especially at SPA have helped me a lot with just being able to work with other people," freshman Gold Sparta Award recipient Val Hart said.
"When it's a really hard practice and someone is mentally struggling, I've learned to talk things out with them, and then on the next interval they go and just kill it and it makes me happy," Hart said.
Sports also provide a prime environment for the development of leadership skills. "Even though I am an underclassman, each year, me and my teammates from my grade have been able to step into a little more of a leadership position, which is super cool to see," sophomore Gold Sparta Award recipient Lauren Hansen said.
Each athlete learns something from their sport, something that they are able to pass on to others, and continually become stronger from. The commitment these Spartan athletes show is what gives them the power to grow.