Sparks Swimming and Diving team bonds on land and in the water
The floor around the pool is soaked, and the benches around the edges of the room are packed with backpacks, swimming bags, and water bottles. Almost no one speaks, but it's far from quiet. The noises of swimming are everywhere, with splashing and the soft slap of water against the pool walls. Somehow, the St. Paul Academy and Summit School Girls Swimming and Diving team has found the perfect blend of hard work and fun. Everything about the team denotes friendship, diligence, and commitment. From the drives to the pool to the jokes in the locker room, it's clear that everyone wants to be there, practicing and getting better.
"I think people are a little more committed to the team than they have been in previous years, and there's more positivity surrounding the coaching staff and workouts," senior captain Sela Patterson said.
"People are willing to try to be better and put in the effort to be better," senior captain Anna Matenaer said.
SPA students make up about a quarter of the team, which is joined with Highland Park Senior High School. "We're pretty close, and we all practice together, so we all get to be really good friends," Matenaer said. "Everybody gets to know each other really well."
The Sparks compete in around 15 meets every season, finishing up with the conference tournament. At the team's first tournament on Saturday, Sept. 7 at St. Catherine University, the team scored 202 points, putting them in seventh place out of the eight teams competing. Mahtomedi High School took first place with 433 points. Still, the team has high hopes for the season. "I think we can beat Como and get third place at Conference," Patterson said. refering to the team's rival, Como Park Senior High School.
The team won by 46 points at their meet on Sept. 10 against Humboldt Senior High School and Washington Technology Magnet School for a total score of 91 points. The team's record at press time is 1-2-0. Their next meet is on Sept. 8 at 1pm at Skyview Middle School.
To view a gallery of the team, go here.
Leave a Comment
About the Contributor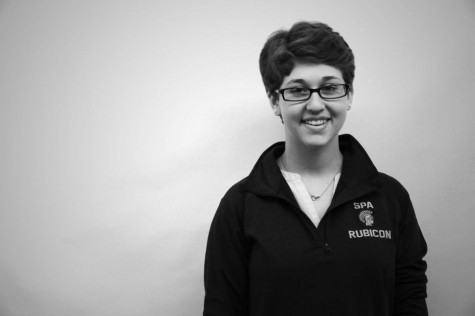 Netta Kaplan, Managing Editor
Netta Kaplan is a junior at St. Paul Academy and Summit School and the managing editor of The Rubicon. She has prior experience on staff as both a Copy...