SPA Views: Students find favorite spaces
With the addition of the Schilling Center this fall, the math and science center, the footprint of the school has dramatically grown. With new and innovative parts of the school to explore, students have found themselves sprawled out across it. Students enjoy studying everywhere from Schilling to the lunchroom.
"This year there has been lots of places available to study. It's so nice that we are more spread out and I feel like because of that I have been more productive," sophomore Olivia Lagos said.
Students are drawn to spaces for a variety of reasons, whether that be needing some quiet spaces or enjoying natural lighting.
"Right now I really like working in the lunchroom because I can sit with all my friends and we can be social while doing our work. However, I am really excited to use the quiet study rooms when exams roll around. They will be perfect for reviewing since they are secluded and located near teachers offices in case I have any questions," senior Krista Schlinger said.
About the Photographer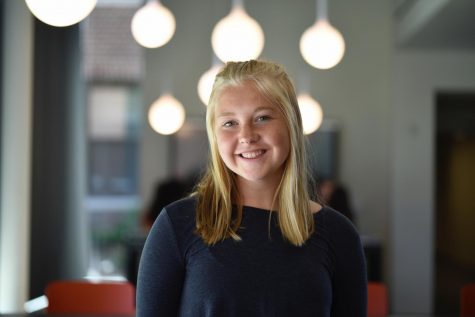 Emma Sampson, Sports Editor
Emma Sampson is the Sports Editor at RubicOnline. Going into her third year on staff, she is excited to edit and publish in a section that she is passionate...