SPA competes in debate national qualifier
Starting at 8:00 a.m. on Dec. 8, St. Paul Academy Debate, hosted the debate national qualifier for their region. Among the schools attending the competition, SPA debate had 4 public forum teams entered. Groups Kaia Larsen and Lucy Sandeen, Kieran Singh and Olivia McCauley, Zach Dyar and Liam Will, and finally Jack Guinan and Sameer Bijwadia. Public forum's, the most common form of debate, topic was whether or not the United States should impose price controls on pharmaceutical drugs.
The debate season begins in early September and compilates to the run for nationals. Participants spend months practicing techniques and compiling evidence. Senior Kaia Larsen, who participated in the national qualifier, explains that "there is a lot of good competition at the national qualifier and even though Lucy and I didn't qualify, it was a really good experience."
The tournament ran in double-elimination rounds where two losses resulted in ejection from the tournament rounds. While several SPA teams fell in these rounds, two SPA public forum teams, Zach Dyar and Liam Will versus Sameer Bijwadia and Jack Guinan. And on a hard decision, SPA team Bijwadia and Guinan fell to Dyar and Will, who did indeed qualify for the nationals. While not qualifying for nationals, junior Jack Guinan explained: "It was a tough loss, especially since it was such a hard decision, but both Sameer and I are happy for Zach and Liam."
"
Qualifying had been our expectation as well as our coach's expectation, so being able to follow through was a big relief."
— Liam Will
Getting third place and being one of the four teams to qualify out of all the teams at the event was extremely exciting for Dyar and Will.  As one of the qualifiers, Liam Will explained "My reaction to qualifying was mostly just one of relief. Qualifying had been our expectation as well as our coach's expectation, so being able to follow through was a big relief."
The national debate tournament will be held in Austin Texas from June 15-21 where Dyar and Will, most likely, will face some tough competition.  But, Will explains that "Nationals isn't until June, and we don't know the topic yet, so it will be a while before we start to prepare. For now, our focus is on sections and state."
About the Photographer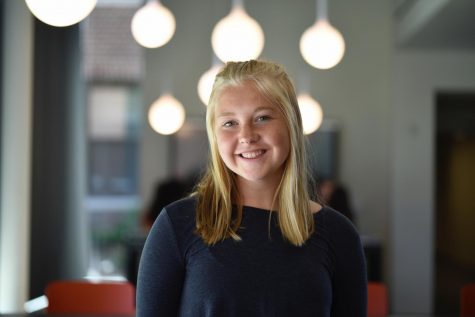 Emma Sampson, Sports Editor
Emma Sampson is the Sports Editor at RubicOnline. Going into her third year on staff, she is excited to edit and publish in a section that she is passionate...