Sophomore retreat encourages bonding, service
Service, community building, and a mystery bus ride are all on the agenda for the sophomore retreat, originally scheduled on Feb. 6-7. However, the administration has made a few changes to the plan because of the recent school cancellations due to the cold weather. The all day component that was supposed to take place on Feb. 7 will now occur on March 7, which coincides with the Upper School service day. One goal of the retreat is for "[students] from many different backgrounds to come together and learn more about each other," Sophomore Class Leadership Council member Taylor Rients said.
According to Upper School Dean of Students Judy Cummins, the retreat will take place both on and off campus. The sophomore class will come together after school on Feb. 6 for activities designed to help students get to know each other better. Cummins said that students will be encouraged to get out of their typical friends group and take advantage of opportunities to talk to people they might not normally talk to. That evening, members of the college counseling department host a program for sophomore parents that will end at the same time as the retreat.
A month later on March 7, sophomores will travel off campus and volunteer at the non-profit organization Second Harvest Heartland, the upper Midwest's largest hunger relief organization. This experience will tie in well with the expectation that sophomores complete 12 hours of service at a non-profit organization or agency. The retreat is not only about helping out an organization as a collective group, but also "celebrating the service that [students] have already done," Cummins said.
Fun and recreation are also on the retreat schedule for March 7. Past classes have attended Winter Carnival events, played games at Grand Slam, and gone rollerskating. It is usually a low key activity that the class does together.
The two retreat days will include a combination of small group discussions, the morning service project, and an afternoon social activity. The main objective is to create a strong sense of community within the class. According to Cummins, the retreat is for the Class of 2016 to better understand each other and the shared goals they have as a class. From there, the class can build on these things in their junior and senior years. "[The sophomore retreat] was a really good way to get to know everyone without forcing a connection," junior Delaney Carter said.
Several people are involved in the planning of the retreat. In addition to Cummins, Upper School counselor Susanna Short and Sophomore Class Leadership Council adviser Mollie Ward set up the framework for the two days. The eight members of the Sophomore Class Leadership Council also provide input, advice, and feedback. Also, the 10th grade advisors chaperone the retreat.
"I hope each 10th grader comes away from the experience having had an opportunity to talk to someone they don't normally talk to and to have a greater appreciation for someone else in the community that is not in their close group of friends," Cummins said.
Leave a Comment
About the Contributor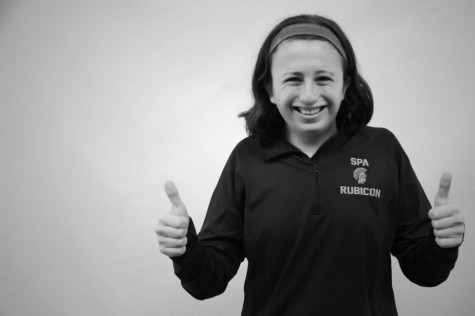 Catherine Braman, Online Editor-in-Chief
Catherine Braman is a Junior at St. Paul Academy and Summit School. Catherine served as Online EIC for first semester 2014 and was a co-Sports Editor...