Softball captains Sarah Murad and Justine Miller talk about goals for their last year on the team
Sarah Murad started her softball career at the age of four by throwing softballs around with her dad. Since then, she's only improved both her experience and skill, as she joined the varsity softball team in 7th grade and became captain of the team in senior year.
Justine Miller held a long-time love of baseball for most of her life, and at the opportunity to play softball in high school, she jumped at the chance to join the team. Her friends were part of the inspiration to play, but since then, Justine has made the sport her own, culminating with her decision to be captain.
How would you describe your team's dynamic?
Sarah: My team's pretty good, we've all been playing together for a while now so we know each other pretty well, we've been playing for at least like 3 years.
Justine: The team dynamic is a little different this year because we have a really big team, but we always try to support each other and know that everyone on the team is important.
What made you decide you wanted to be a captain?
Sarah: Well, I had been on the varsity team since I was in seventh grade…and it was just an experience that I wanted to have, you know, the chance to be a leader on the team
What are some lesson learned from the previous season, both for the team in general and for you?
Sarah: For the team in general…we've had a lot of up and down seasons throughout the past five years, and I think the most important lesson is: the whole winning and losing aspect is important, but also remembering that we're a team [is important]. We win together, and we lose together, and we just stick together and support each other as much as we can, because losing is hard, but it's not gonna get much better if your team is falling apart… remember that it's just a game … so you just kinda have to move forward.
That's also an important lesson as an individual because I kinda had not such a  great season in my sophomore year … but my coach told me it's just one season, and for the next one you keep getting better, and you just keep moving forward. My coaches always tell me that the best athlete has a 24 hour memory, so the next day, they'll forget everything that happened yesterday and keep moving forward.
Justine:  I would say I've learned from previous seasons that it's always important to stay positive and support your teammates even if things aren't turning out as expected.
What makes your team stand out? What's unique?
Sarah: I think that what makes us unique is that we have so many different kinds of people that play this sport. We have volleyball players, and hockey players, and soccer players. So we have people who have a lot of different kinds of strengths because of all the other sports they do, so that's nice to have that kind of diversity in our team.
Justine: Our team probably stands out both because it is really big this year and because we have 7 seniors this year.
How do you train and keep in shape in the off season?
Sarah: I play for club team during the summer and fall, and I play basketball in the winter. But all throughout the year I'll do things. I'll just go to batting cages and hit some balls so I always keep in shape in that aspect.
Justine: I personally play soccer all year and that's what I do to stay in shape out of season.
What are some senior goals/highlights that you have?
Sarah: Probably my most important one is [that] I really wanna make this season the best season, not only because it's the last one for the seniors, but it's also the last one for our coaches because they're retiring after this year. So, [that means] making sure that everyone is improving a lot, and that no one goes out feeling down on ourselves, but [feeling] that we did the best we could and that we had a good season.
Justine: As a senior I hope to make the best season possible for my team and would love to hit a home run this year.
"
We win together, and we lose together, and we just stick together and support each other as much as we can, because losing is hard, but it's not gonna get much better if your team is falling apart."
— Captain Sarah Murad
How is being a leader different than being a player?
Sarah: You have more contact with the coach outside of practice … and we talk to the athletic directors about things. I guess the other side of it [is that] being captain is like you're seen as a leader of the team … so if they see the team dynamic struggling you kinda have a team meeting and be like we need to reset our mindsets and go about this a different way. It's just kinda the captain's responsibility to look out for everybody on the team.
Justine: A captain is someone that the team can look up to in need, but every player on the team can be a leader
What rituals/traditions do you have?
Sarah: So before a game, we all do a  cheer where we pretty much just stand in a circle… After games we might go to someone's house, or go and get coffee together, or ice cream or something like that. This year in particular we will have some kind celebration for the coaches because it's their last season.
Justine: In terms of traditions, we always do the same cheer before every game and always have sunflower seeds on the bench as a tradition of the sport.
Their next game can be found here.
Leave a Comment
About the Contributor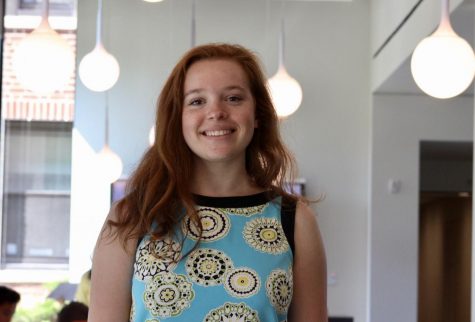 Chloe Morse, Managing Editor

Senior Chloe Morse is a self-motivated leader, scholar, and Managing Editor of The Rubicon.  Outside of school, Chloe is a voracious reader, constantly...