Small hopes to qualify for nationals in gymnastics
Hands cling to the cold metal bars, toes grip the sides of the narrow beam, springs bounce up and down, and thudding sounds of feet hitting the mat echo around the room as participants line up, ready to show the audience everything they've been training for.
Junior Raegan Small began doing gymnastics when she was two years old. She was first introduced to the world of gymnastics when her mother brought her to a mommy and me class.
"My mom did [gymnastics] when she was in high school and college so she put me in it. And I just never really stopped," Small said.
She first went to a Booster Club in Lakeville, then joined TAGS, and currently goes to Gleasons. This is her fourth year at Gleasons, and second year as level 9 (10 levels total).
It's difficult to continue a sport all throughout high school but Small's passion for gymnastics and motivation to get to state and regionals has encouraged her to pursue it.
In the past, Small has qualified for state and made it to nationals. She placed in the top eight and was able to attend Westerns – the national competition – in Washington D.C.
"I was extremely nervous because I was surrounded by a bunch of really good athletes, but it was all worth it," Small said.
After doing gymnastics for almost her entire life, there are still lots of techniques Small has to learn.
"You're always learning something new. You do have to perfect things but you also get to learn new skills. It's hard work but it's so fun at the same time," Small said.
"
You do have to perfect things but you also get to learn new skills. It's hard work but it's so fun at the same time,"
— junior Raegan Small
Small's favorite events are beam and floor while her best event is vault.
Last week, Small went to her last meet before the state meet which is happening this week.
"It wasn't my best meet of the year but I placed first all around in my age group," Small said.
While it is rewarding to achieve state and national awards, it is also important to have fun and become a part of a supporting and close knit group of teammates. Small spends 20 hours a week with her teammates who have become close friends over the years.
"Everybody knows each other as if they were apart of each other's family. We are all extremely close," Small said.
Although gymnastics seems like a sport centered on individual participation, "there is still a large emphasis on team effort," Small said.
Being able to achieve success as a team is important for many sports because not only does it build trust and friendships, but gymnasts also get to experience what it's like together – nervousness, excitement and all.
"I'm not really concerned about qualifying for regionals but my coach wants us to focus on a team score so I just want to hit each event with my team and have fun," Small said.
Small hopes to qualify for nationals again this year and become a level 10 next year.
About the Contributor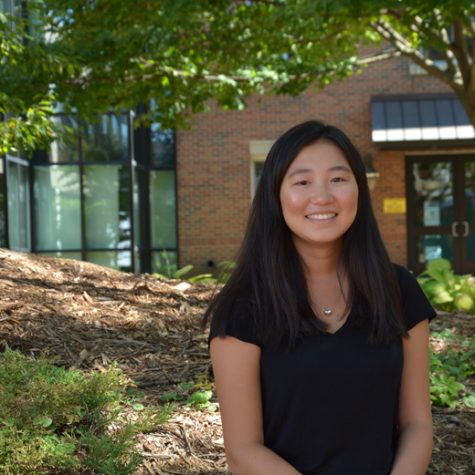 Stephanie Li, The Rubicon, Photo Story Editor
Senior Stephanie Li is The Rubicon's Photo Story Editor. Outside of the print room, she is an avid photographer and considers it a hobby of hers. Her...