[SMALL BUSINESS SPOTLIGHT] Up Six thrifts for the planet
Over the past few years, thrift and vintage shopping have grown in popularity. What is considered "trendy" has evolved from having high-end brand name items like Ugg boots, Hollister jeans, and Aeropostale sweaters to having vintage Levi's jeans, Tommy Hilfiger sweatshirts, or Ralph Lauren sweaters.
This rise in popularity can be largely attributed to Gen Z. "There have definitely been a lot more younger folks into vintage and thrift shopping lately," said an employee of Up Six, a vintage store located on Snelling Avenue North in Saint Paul.
While the desire to buy second-hand clothes may commonly be considered odd to some adults, it has become mainstream for this generation. Gen Z does not have the same stigma surrounding second-hand clothing that their parents might have.
Due to the increase of thrifting and vintage shopping over the past couple of years, "It seems like now people are just having more fun with fashion, and they are more willing to change it up" said a staff from Up Six.
Not only is thrift shopping and vintage shopping trendy and fun, but it is also sustainable. "There's a lot of fast fashion and that's great because you can get clothes without spending a ton of money. It's hard to afford sustainable clothing. You want a nice pair of jeans, and maybe you don't want to spend $200. So you go to Forever21 and you spend $15 but the quality isn't going to be there" said Up Six employee.
"
There have definitely been a lot more younger folks into vintage and thrift shopping lately,"
— staff at Up Six
Although fast fashion is bad for the planet, it is important to consider the fact that it may be all that people can afford.
If possible, it is important for people to avoid fast fashion, "It ends up in landfills. It's not quality made. It probably can't even go to the thrift stores because it's not in good shape, so it just becomes trash. Vintage clothes are made with better materials, and are mostly made with natural fibers." said Up Six employee. Vintage and thrift shopping is a great way to lessen one's carbon footprint, it's really the most simple way to recycle.
Leave a Comment
About the Contributor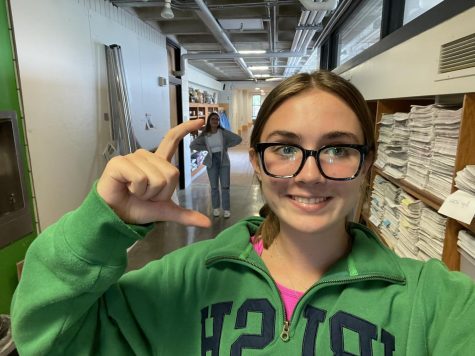 Alexandra Cardwell, Opinions Editor
Hi! I am Alexandra Cardwell. I am a co-editor of the Opinions section for the 2022-2023 school year. This is my fourth year on staff, and in the past I...