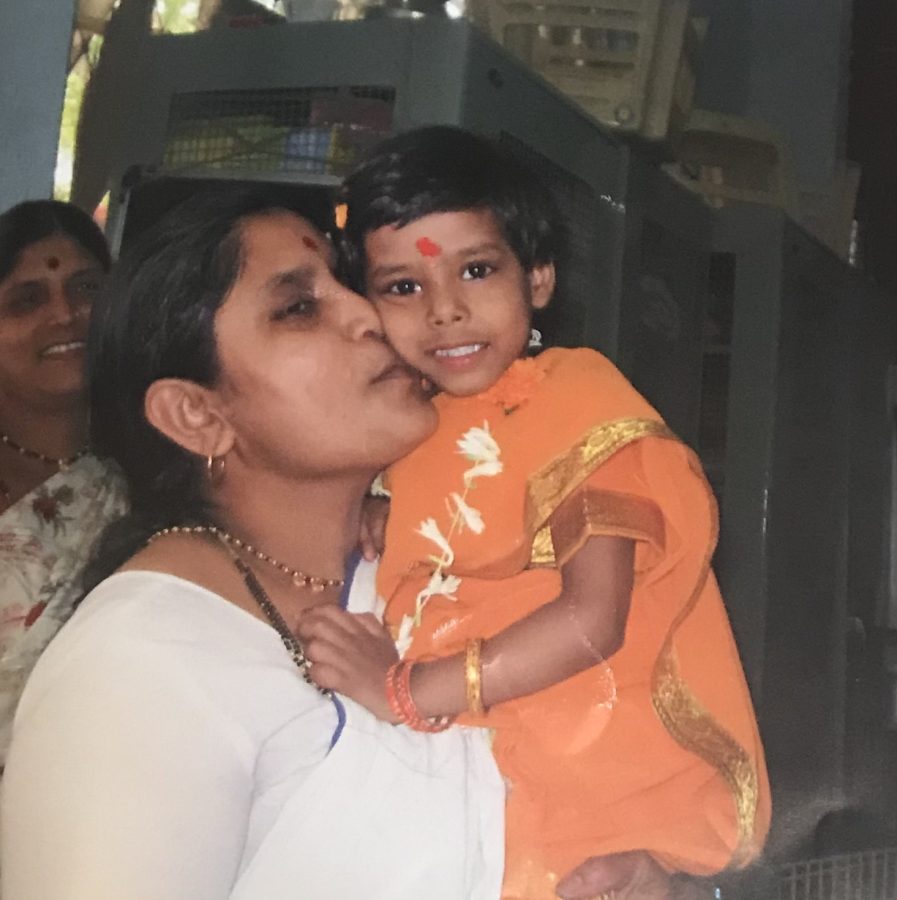 Submitted by Nora Shaughnessy
Ebony black hair, charcoal eyes, chocolate-colored skin. Sophomore Nora Shaughnessy has the complexion of an Indian girl. But her orphanage in India, the female Moushi caretakers, and her biological mother have all become faint memories of the past. In their place, a feeling of unfamiliarity and isolation has swarmed and pushed her to rebuild St. Paul Academy and Summit School's Adoptee Affinity Group, Love & Grace, instead.
It wasn't until Shaughnessy's first visit to India in 2019, a decade after she was adopted at the age of four, that she felt a sense of belonging in the community and connection to herself. She said, "I didn't see myself as an Indian girl for a long time because I grew up in a privileged white family. During holidays, gatherings, I've always felt excluded from my family because they didn't look or have the same perspective as I do. I've never enjoyed family gatherings because of that feeling of being isolated, even though I was right there with them. [But after visiting India,] I finally felt like I belonged somewhere because people looked just like me everywhere I looked."
Walking down the crowded, bustling streets of India, Shaughnessy's expectations of reconciliation with herself, India, and her biological mother were also shaken during one particularly memorable episode with a local woman in the market.
"I was walking in a market and saw this woman trying to communicate to me by putting her hand near her mouth to say she was starving. It was as if I saw my birth mom as I looked into the woman's eyes. I didn't give the woman anything, which is probably my biggest regret by far, because I felt a rush of different emotions from anger to fear and didn't know what to do in that situation," Shaughnessy said.
After coming back from her trip in 2019, Shaughnessy's emotions- from fear to anger to yearning- prompted her to take initiative in reforming an adoptee affinity group. She said, "I always felt like something was missing at SPA, but I didn't know what it was. I wanted to have a connection with people who have forgotten their culture and struggled to learn about their culture because they were scared and didn't get that opportunity growing up."
Despite Shaughnessy's aspirations, many technical difficulties, particularly the small adoptee student population at SPA, posed obstacles in the recreation of an adoptee affinity group. It wasn't until after hearing senior Ganga Corsaro's senior speech on her adoption from Nepal that Shaughnessy realized how meaningful bringing back an adoptee affinity group could be for the community. "[The speech] made me cry. It wasn't because they were scared to tell their story, but more so because no one else would understand what it's like being adopted," Shaughnessy said.
Coincidentally, around the same time, Upper School History teacher Sushmita Hodges also reached out to Shaughnessy, encouraging her to restart the affinity group. Hodges said, "The affinity group was started several years ago but disbanded when the class of 2019 graduated. [Reviving the Adoptee Affinity Group,] I believe it brings another important platform to support diversity and inclusion at SPA."
As the Adoptee Affinity Group begins to meet every Friday Tutorial in room 5215, co-presidents Shaughnessy, senior Nan Besse and Hodges hope to foster an inclusive and comfortable environment for adopted students' growth, sharing, learning, and self-discovery.
"I want people to have a space to share a personal connection with others about heavy topics and ask questions like why, who, when, how and feel safe in an environment where there aren't many adoptees at a privileged school. My main goal for the adoptee affinity group is to help guide and understand students to ask those serious questions without pausing and feeling shame because they are different," Shaughnessy said.
While bringing back an adoptee affinity group to SPA is a big milestone for Shaughnessy, the process has been very conflicting and caused her to reflect on two parts of her identity in a novel way- Shaughnessy's American life and Indian culture are both parts of herself she embraces fully. The love Shaughnessy's received and the isolation she's faced are both valid facets of her experience as an adoptee. Shaughnessy said, "I can't really explain it. Being adopted isn't sad, but the stories behind it make me want to cry."
Ebony black hair, charcoal eyes, chocolate-colored skin. Just like the love Shaughnessy felt while visiting India, Shaughnessy hopes that Love & Grace can transport other SPA adoptee students back to their own cultures and birth countries, even if it's only temporary.