Graduation plan released by administration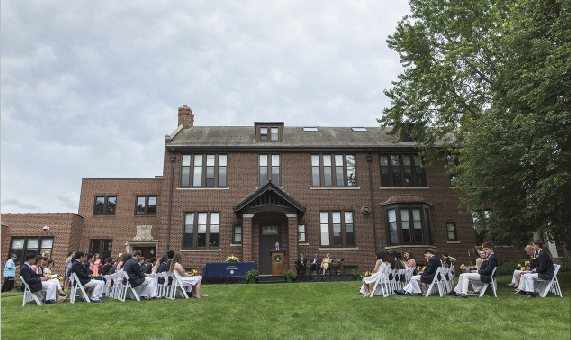 Nearly every aspect of life has been affected by the coronavirus pandemic, and high school graduations are no different. As the end of the school year looms, graduation and the commencement ceremony are just on the horizon. Seniors have just begun their senior projects and the rest of the upper school is in the last leg of the second semester. Graduation at SPA was set to return to the Randolph lawn after two years away due to the construction of the Schilling Center at the Randolph Campus.
On May 8th, the Minnesota Department of Health (MDH) released a statement addressing high school graduations for the Class of 2020. The key points from that release were that indoor and outdoor graduation ceremonies at stadiums or on fields are not permitted and that virtual ceremonies are highly encouraged.
Six days later on May 14th, Mr. Roberts released a statement via email to the SPA community. "Last week, and after much conversation and discussion, we decided that it was safest for everyone if SPA had a virtual commencement ceremony," Roberts said.
However, Roberts mentioned that the graduates will be able to return to campus, "We would like every member of the class to visit the Randolph Campus and have their graduation photo taken with their diploma."
The date for graduation is now set. A virtual commencement ceremony will be streamed at 1:00 PM on Saturday, June 20. There will also be a parade of seniors in their cars on campus late that same afternoon.
"
I think most [seniors] just want to be together as a class one more time before we all leave."
— senior Alex Herrmann
SPA students have not been on campus since March 13th, so it has been just over two months since the last face-to-face interaction occurred. Community plays a massive role in making SPA what it is and the school as a whole.
Senior Audrey Egly expressed disappointment while reflecting on the outcome of this year's graduation and touched on the idea of community, "It's super disappointing that we cannot have an in-person ceremony. And it's less about the actual diplomas and graduation, and more about getting together as a class one last time, and having a big, official, special send-off," Egly said.
Fellow senior Alex Herrmann expressed similar disappointment with this year's complications. He said, "I am a bit sad that we won't get what we have seen everyone else go through."
Smaller events related to senior graduation such as the common grad party are also up in the air.
Egly touched on this, "I was supposed to have one [a grad party] in June, but we may push it back to August — I think that's going to be really common among seniors this year."
Herrmann alluded to the same, "I was looking forward to going to my friend's grad parties […] I'll miss that."
Herrmann concluded by demonstrating a wish to see everyone one last time, "I think most [seniors] just want to be together as a class one more time before we all leave."
Luckily for these two and the rest of the senior class, they will be given the opportunity to see one another on campus one last time.
About the Writer
Thomas Reinhart, Sports Editor
Thomas Reinhart is a Sports Editor on RubicOnline. This is his first year on staff. Some of the things Thomas has done during this time include playing...