Seniors carry on the tradition of Spartan spirit
A member or two of the senior class is selected each year by the Student Activities Council to be the face of SPA's mascot and embody school spirit. This year's Spartans are seniors Tommy Verhey and Leo Sampsell-Jones, though Sampsell-Jones will take on more of a supporting role.
The Spartan selection process commenced last spring. In May, interested students filled out an application, answering questions ranging from why they want to be the Spartan to whether they can be trusted with a light-up sword.
"I think really the biggest factor is how excited they are about [being the Spartan]. How passionate are they about it? Are they going to get other people pumped up?" Mallory Schmidt, SAC faculty advisor said. "We want someone that will go all out."
"
Being the Spartan is a super important role for the school and I am honored to be chosen.
— Tommy Verhey
Though the mascot itself hasn't changed, the role of the Spartan will be different from past years. Previously, the Spartan's appearances were mostly relegated to Homecoming and the annual Pep Fest. SAC, with the assistance of Verhey and Sampsell-Jones, plan to increase the Spartan's involvement in the community.
"The goal for the Spartan this year is to elaborate and expand on its role from the past," Verhey said. "SAC's goal is to incorporate the Spartan at more random assemblies and sporting events that either are not going on during homecoming week (hockey, basketball, baseball, etc), or that are commonly unrepresented by fans and spirit like tennis, cross country, track, ultimate frisbee, etc."
Both Verhey and Sampsell-Jones met with Schmidt following their selection to discuss and clarify their role in the community.
For Verhey, the position comes with a lot of responsibility. "Being the Spartan is a super important role for the school and I am honored to be chosen," he said. "The mascot helps lead our school in athletics and overall spirit and is an embodiment of our culture as an institution."
Verhey also found inspiration in the example of past Spartans. "I also wanted to be the Spartan because my brother, Bobby Verhey, was also the Spartan during his senior year," he said. "I decided it would be funny and kind of cool to follow that path."
For Sampsell-Jones, the appeal of the Spartan was tied to school unity. "There's these moments like when the entire school is cheering and rallying around each other and lifting each other up. I wanted to be as present in those moments as I could be," he said.
Sampsell-Jones believes the school spirit represented by the Spartan can be something to look up to. "[The Spartan] shows the school, the underclassmen especially, that you are allowed to be involved in the community and you're allowed to be loud and take up space. It shows that you can be exuberant without fear of being ridiculed," he said. "It was definitely cool for me to see as a freshman."
Both Verhey and Sampsell-Jones are looking forward to their time as the Spartan. "It's gonna be a party," Sampsell-Jones said.
Verhey ended his interview with a cheerful "Go Spartans."
Leave a Comment
About the Contributor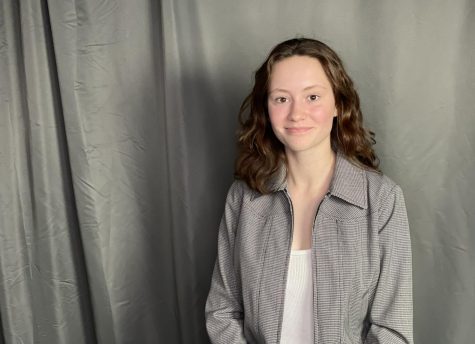 Maddy Fisher, Editor in Chief
Hi! I'm Maddy Fisher, the Editor-in-Chief of The Rubicon. This is my fourth year on staff, though I missed the fall of my junior year to attend a semester-away...