Senior Sela Patterson satisfies her sweet tooth-vegan style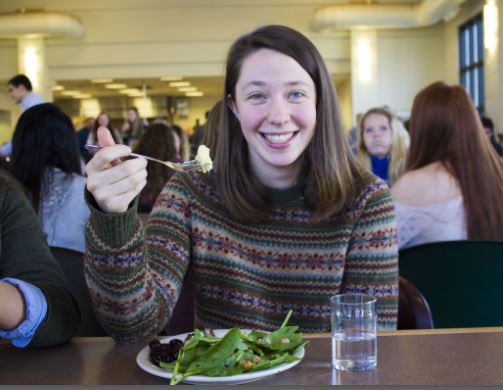 Imagine walking through the grocery store and having to painfully pass the bakery aisle because of your diet. Many students cannot even fathom a life for themselves without dairy-rich comfort foods like brownies, cakes, and cookies.
Some believe that vegans, who refrain from eating all animal products, cannot luxuriate in the tastiness of sweets; however, this is simply not the case. During a three-week trial with veganism, senior Sela Patterson could not stop thinking about all the different deserts she was missing out on. "I am vegetarian for moral reasons of how [the animals]'re treated before they're killed, not the fact that they are killed," Patterson said. Her mother shared a documentary that changed their views on food.
Looking to satisfy her sweet tooth, Patterson searched online for a vegan cinnamon roll recipe. "It was the first one to pop up," Patterson said. "It only had seven ingredients, so [my mom and I] we thought it was the easiest one and went with it."
The recipe, which she found on minimalistbaker.com, substituted regular butter with vegan Earth Balance butter and cow's milk with almond milk.
Patterson followed the simple instructions and waited rather impatiently for the rolls to finish baking."I thought they looked really, really good and they smelled good too," Patterson said.
Her first bite surpassed all expectations she had for the rolls. "I definitely thought they held up to the normal ones," Patterson said. She noted that the vegan cinnamon rolls were more flaky and less dense than normal, dairy-rich cinnamon rolls.
Although Patterson has quit veganism and returned to vegetarianism, she still plans on baking vegan cinnamon rolls. "I thought they were almost better than other homemade cinnamon rolls I had made before, so I think I would make them again."
When asked if she finished the whole pan, she guiltily responded, "Yeah…I did!"
Leave a Comment
About the Contributor
Hannah Johnson, Editor in Chief


Hannah Johnson is a senior at St. Paul Academy and Summit School. She is the Editor in Chief for the 2013-2014 school year. This is her third...