Selecting the Perfect Christmas Tree
O Christmas Tree,
O Christmas Tree,
How lovely are your branches!
In beauty green will
always grow
Through summer sun
and winter snow.
O Christmas tree,
O Christmas tree,
How lovely are your branches!
The well-known German Christmas carol "O Tannenbaum" pays tribute to the decoration that is often the symbol and the centerpiece of the home during the holiday season.
According to Statisticbrain.com, 33 million real Christmas trees are sold in the U.S. each year and 9.5 million artificial trees are bought annually. For those who celebrate the holidays with a tree in their home which is better? A real tree or an artificial tree?
According to sophomore Quinn Smith, his family has already purchased a real tree for this Christmas at Gerten's in Inver Grove Heights.
"It's a tradition to put it in the same place every year, in the living room," he said.
Smith's family decorates the tree with many ornaments that they have received as gifts over the years from family and friends.
"At the top of the tree, we put a star," he added.
Senior Victoria Guest's family tree is also topped with a star, but the tree is artificial. Her family purchased the tree when she was three and living in Arizona, where real trees are considered a fire hazard.
Part of their tradition includes sorting and arranging the branches and stringing the lights.
"We decorate with silver and frosted glass balls and glittery, snowflakes that are purple, pink, turquoise, and green," Guest said.
Christmas tree owners can select from a variety of real and artificial options, ranging in color, style and price… decorations extra.
Get the Real Tree
For sophomore Lucas Johnson, the ritual of getting their tree is important. "We buy our tree from the same place every year, a tree lot at the Highland Golf Course," Johnson said.
All members of the Johnson family participate in picking out the tree which gets everyone into the holiday spirit. Real trees bring a natural fragrance to the home during the holiday season.
According to Deb Krueger who owns and manages Krueger Christmas Tree Farm with her husband Neil in Lake Elmo, "the Fraser fir is the most popular and the best selling."
Environmental stewardship is important to Krueger's Tree Farm. "One acre or one thousand trees gives off enough oxygen for 18 people to breathe… this is the reason that is important to support the growing of real trees and the planting of trees around the world," she said, adding that "the average six foot tree takes about 10 years to grow." They also encourage their customers to bring their trees back to the farm after Christmas to be recycled into wood chips.
Reuse the Fake
For sophomore Vanessa Miller, her family will set up an artificial tree this year. The tree has sentimental value for her family. Although she mentioned "we have had both types of trees in our house." Last year the Miller family had a real tree that Vanessa named Henry the Bird. "Real trees are expensive," Miller said.
Miller mentioned that real trees do look nicer but need to be watered frequently. On the other hand, "artificial trees require assembly, but don't have much maintenance," Miller said.
Artificial trees closely resemble the real ones which is one reason a lot of artificial tree owners like this option.
Also, artificial trees, a one-time investment, last longer, and can even have the inviting aroma of a real tree, with potpourri and scenting products available. There are even pre-lit artificial trees for sale.
Famous Tannenbaums
There are a few Christmas trees prominent in American culture. Every year the tree displayed and decorated at Rockefeller Center in New York City is an iconic symbol of the holiday season. The White House in Washington D.C. proudly displays the national Christmas tree. In the famous Peanuts special, "A Charlie Brown Christmas", Charlie Brown makes a big deal of selecting the perfect tree to be part of the Christmas pageant that the Peanuts gang performs. He chooses a scrawny twig that gets transformed into a beautiful masterpiece.
At the end of the movie, It's a Wonderful Life, actor Jimmy Stewart's character George Bailey and his daughter, Zuzu, stand by the Christmas tree to celebrate an angel who earned his wings. These well-known images are vivid and memorable for many during the holiday season.
The bottom line is that people generally have a tradition as to whether or not they set up a real or an artificial tree. There is no right or wrong option. Regardless, the symbol of the Christmas tree will continue to be part of the spirit of the holiday season for years to come. "I really enjoy this family tradition," Smith said.
To read about how divorced families celebrate the holidays, click here.
To read about how some non-Christian families celebrate Christmas, click here.
Leave a Comment
About the Contributor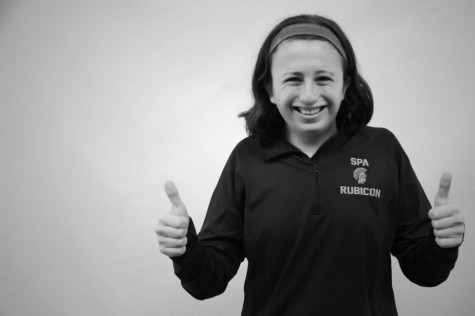 Catherine Braman, Online Editor-in-Chief
Catherine Braman is a Junior at St. Paul Academy and Summit School. Catherine served as Online EIC for first semester 2014 and was a co-Sports Editor...