Science department offers new electives for 2018-19
The 11 courses have been in the works for nearly four years and will be offered for the upcoming academic year
As course requests were handed out this year, many students noticed that there were many new science electives being offered during the 2018-19 academic year. These courses have been planned to be released by the science department since the class of 2019 (the current juniors) took Physics 9. Everything from forensic science to quantum physics is now optional to take for upper schoolers, but seniors specifically. In the past, optional electives have been offered through the humanities rather than in STEM.
"The fact that the Schilling Center for Arts and Sciences is being completed next fall when these electives start is just a happy accident. Really, we've been thinking about implementing these for four years… We wanted to give more opportunities to students who had the desire to dig in deeper [into science-related subjects]… We went through a whole process as a department [to decide on courses]: we walked through a lot of design thinking steps to get where we ended up, so we did a lot of brainstorming, giving each other feedback, and thinking about what we currently offer and how we could build off of that," head of US science department Karissa Baker said.

"I actually went to grad school for organic chemistry," said Mallory Schmidt, a science teacher who is set to teach the organic chemistry course next year. "I like seeing how carbon-based molecules interact and how you can form them, and you can actually predict how different molecules are going to react depending on what they're made out of," said Schmidt. "[Organic chemistry] can help you answer a lot of questions, like how to make a new pharmaceutical, how a drug might interact in your body, all these different things that answer so many questions."
Most of the electives being offered are only taught in the spring or in the fall, with a few exceptions for courses that require completion of larger projects that take longer than a single semester.
"I'm planning to take the forensics course next year," said Will Swanson, a current junior. "I've always been interested in work with DNA, and we did some things with it in 10th grade biology, but we didn't do a lot very in-depth at all, so I'm looking forward to expanding my knowledge [about DNA]," said Swanson.
"The rising seniors just needed more choices, so we're happy that we finally were able to finalize these courses," Baker said.
Leave a Comment
About the Contributor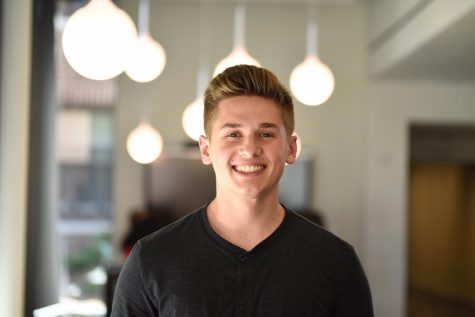 Kelby Wittenberg, News Editor
Kelby Wittenberg is the Rubicon News co-editor at RubicOnline. This is his fourth year on staff. He enjoys RubicOnline because he believes news is the...