Schoonover takes the stage at Lollapalloza
It's not uncommon for students to feel nervous giving their senior speeches before the entire school, but imagine giving your speech in front of 100,000 people. Sophomore musician Emily Schoonover can imagine this from when she performed at Lollapalooza on Aug. 1-3, one of the Midwest's largest music festivals.
She got in through a national competition called School of Rock All Stars Tour, in which over 24,000 competed. She was one of two high school students in the Twin Cities to make it through the competition.
"Through the music program School of Rock… we have opportunities to audition to play tours, so I got into the second round of one that ended up playing in Lollapalooza," Schoonover said.
"I went on tour and I played Summerfest in Milwaukee and in audition I got past the second round and I made it to the third round of the Lollapalooza tour and I got into that too," she said.
Lollapalooza, which takes place in Grant Park, Chicago, featured headliners Outkast, Kings of Leon, and Eminem this year. It's a gig which many established and up and coming professional artists would love to get, due to the popularity of music festivals.
Impressively, Schoonover actually got to meet some of the famous artists playing at Lollapalooza.
"We got to eat in the same hallway as Lorde and the Arctic Monkeys… people would try to talk to them from our group but they were just unresponsive and like whatever, but it was still really cool," Schoonover said. 
"
"I talked to Iggy Azalea and waved at Lorde, but she kind of ignored me.""
— Sophomore Emily Schoonover said.
Schoonover was initially supposed to perform at Kidzapalooza before 20,000 people instead of the 100,000 people she eventually performed in front of on the main stage. A band named Portugal. The Man saw Schoonover perform at Summerfest and asked her to join them on stage for their performace at Lollapalooza.
"We sang 30 seconds of their [Portugal. The Man's] outro [ending of a song], they did their song 'Creep in a T-shirt and Jeans' and they made that go into Queen's 'We are the Champions' and we sang backup for them," Schoonover said.
While performing before a crowd of 100,000 people sounds nerve-wracking, Schoonover said when the crowd gets so large, it all blurs together.
"Because there are so many people you are literally unable to see the individual people and are unable to make out their faces, it just looks kind of like grass but the grass is actually people, not grass," Schoonover said.
Now that Schoonover has come back to the real world and school work, she has to work hard to keep her music career and student life balanced.
"I use my free periods and study halls and lunches and tutorials and basically everything I possibly can, because there's maybe two days a week where I don't have a music practice of some sort," Schoonover said.
Along with music practice and school work, Schoonover also is involved with two different bands, Local Motive and Bruised Violet. Despite her new experience performing at a large music festival, Schoonover doesn't think the fate of her bands will change much.
"It's a really cool experience and it's awesome for bragging rights and it will look really good on a resume if I wanted to do something with it," Schoonover said. "As far as my band goes I'm not going to go out in public and people be like 'hey that's the girl who sang for 30 seconds at Lollapalooza.'"
SPA students can listen to Schoonover perform on her Youtube channel Local Motive.
This article was originally published in the September 2014 Print issue of The Rubicon.  The story can be seen in its original form by clicking on the "In Print" tab or at ISSUU.com.
About the Contributor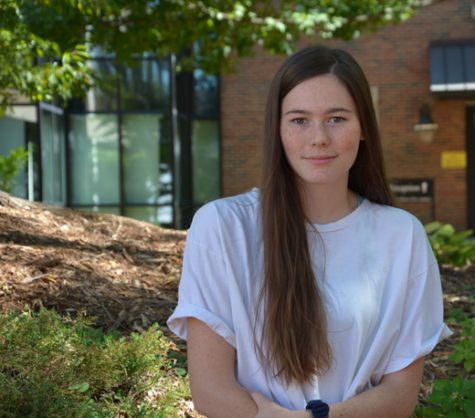 Mari Knudson, Graphics Editor / Aureus Asst. EIC
Mari Knudson is a senior member of the staff, a dedicated student athlete, and the Graphics Editor for The Rubicon this year. She is also Assistant EIC...