Memory Project honors student voices during a historic time
Today during X- Period, English teachers Kristen Collier and Amanda Minoff opened up the first leg of the Memory Project for all US students in the Redleaf Commons. Designed as a response to the unprecedented time the community is facing, the Memory Project is inspired by a "Letter from/to" writing assignment started in the US Literature of Resistance English elective course. The purpose of a "Letter from/to" was to write on the "geographically specific experiences, the pandemic, the historical underpinnings of policing or racialized violence, inequity in housing and labor and, for many: the deeply vulnerable, specific experience of being alive," in the weeks and months following George Floyd's murder and National uprisings that spread across the country.
As an extension to the "Letter from/to" assignments, Collier and Minoff have invited all students to participate in creating a school-wide Memory Project of all events that have occurred in the past two years. To participate, students can choose to either write or illustrate a postcard. In an email sent out to the US students, Delgado wrote, "These postcards will be collected and archived at the school as a memory project so that future generations of SPA students can better understand this moment and its impact on those who lived it. Students will have the opportunity to be writers, artists, or both."
Today during X, students were offered a chance to write their postcards in the RedLeaf commons with friends, advisory or even alone.
"
I wanted to do this project because I think it's really significant how we have a conversation with the people who are going to come after us."
— junior Naci Konar-Steenberg
Junior Naci Konar-Steenberg chose to participate in the Memory Project. He said, "I wanted to do this project because I think it's really significant how we have a conversation with the people who are going to come after us. I feel like the way we look at history ourselves and the actions we take to influence the lives of the people around us, eventually the lives of the people around the whole world, that's what really gives history its context and because of that I think writing these letters to people who we don't know and will never see or interact with is critical because it allows us to put the actions we take today in the context of a grand narrative stretching back until the beginning of Minnesota, the US, structural racism. I think that's really interesting."
Another participant sophomore Hannah Brass said, "I wanted to do it because I wanted to say something instead of just talking about things in historical context because this feels more real and less like normalizing it and more just understanding feelings around it."
Next week, art teacher Mara Duvra will be hosting the second half of the Memory Project that is focused on illustrating. Students will have until then to write a postcard.
About the Contributor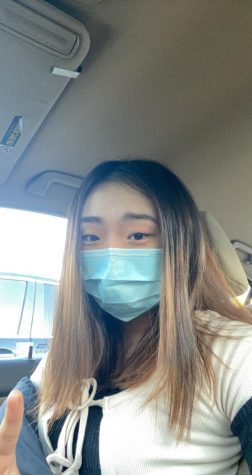 Elle Chen, Production Manager
Elle Chen is the Production Manager on RubicOnline. This is her third year on staff. During the pandemic, Elle has been spending a lot of time with her...