SAT subject tests, essays cancelled
As the pandemic surges on, colleges and universities are extending their test-optional policies to include the Class of 2022.
Seeing a large decline in test-takers as a direct result of the technical changes and challenges of college admissions, the College Board officially announced the end to SAT Subject Tests and Essay late last month. This decision was mainly solidified by the financial restrictions of the College Board. As a non-profit, closing the SAT Subject Tests and Essay was the most viable option for financial stability.
However, with the sudden change to the college admissions process comes a change in admissions standards. For years, standardized testing has been one of the most essential factors in college admissions. But now with the SAT and ACT becoming optional, many colleges and students have had a drastic shift in the college applications mindset. According to recent statistics, it has been reported that a drop in standardized testing has led to an increase in applications to more selective schools. However, this does not mean that more students are being accepted into these schools.
In light of recent changes, many colleges have had to take very different approaches to the admissions process. For one, colleges are now more focused on school transcripts, academic rigor, extracurriculars, application essays, etc. And while even colleges are struggling to find a new and appropriate way to evaluate student applicants, the students themselves are also struggling with change.
"
There was less material to judge us on so they tried to get to know us through our writing."
— Millerhaller
Senior Maxanne Millerhaller said, "I'd say I was surprised by how much the supplemental essays for individual colleges took up my time. Once I filled out the common app, that was pretty much the only thing I had to do for each school, but each one had its own prompts that took a lot of time and thought."
When asked if she thought the pandemic had anything to do with some stress related to college applications, Millerhaller responded, "Probably. I think some schools required more writing than usual this year because of the pandemic's impact on testing and extracurriculars. There was less material to judge us on so they tried to get to know us through our writing."
Despite the challenges, senior Anthony Chen still believes that the pandemic and a switch up of college admissions has benefited his college application process and mindset for the future. "Though I missed many opportunities and events [due to COVID-19] it made school work much more self-managed, and I had a much easier time balancing school and applications. [As for COVID-19's impact on college decisions] The circumstances have made me far more conscientious of issues and struggles in our world, and have helped shape my interest and coursework choices for the future. I think I was also fortunate to apply and receive decisions early, which significantly lessened my burden over winter break and beyond."
Besides the class of 2021, this change has also impacted the class of 2022. Junior Divya Bhargava hopes to continue swimming in college. She said, "I'm looking for schools with [swim] times that feel achievable to me so I can start talking to coaches and get ready."
But having gotten a quick preview into the "new" college admissions through the junior college counseling courses, Bhargava also expressed her worries. She said, "I think about it [college applications] kind of a lot because we have the class about it now and I have been researching colleges. I've been more stressed with the changes because I have heard that it will become more competitive. I think the rest of your application [essays, extracurriculars] becomes even more important now that so many schools are test-optional and I'm definitely nervous to start applying soon."
Bhargava is not alone. Junior Julian Duffy also feels confused about the college selection process. Without the standardized testing bar set for everyone, it's hard to know what colleges are really looking for in student applications. But more importantly, Duffy is worried that virtual tours will not suffice as enough information on finding a school that's right for him. Duffy said, "I'm worried about a lot of things… I guess in terms of the college process, I want to pick out a college that's right for me. I think finding a college that suits me is going to be harder cause I can't go and visit them in person."
"
I'm worried about a lot of things…"
— Duffy
As for the overall college admission, Duffy said, "I also want to separate myself from academics and testing every now and then and that worries me too. I think colleges [especially as an outcome of the pandemic] are looking for someone who is outgoing and has a lot of things going on in their life beside academics. [Even in general] Like sure standardized tests matter, but I feel like experience and finding things you're passionate about are a lot more important."
To make up for standardized testing Duffy has also been trying to boost his extracurriculars. "Other than that, I haven't really been doing anything for college apps," he said.
Just like the tide of pandemic life, the everyday uncertainty and changes are also prevalent in the college admissions process. Everyone from students to colleges is trying their best to adjust to the changes. To find more information on college admissions, visit this website to find schools that have become test-optional for the class of 2021 and 2022.
About the Contributor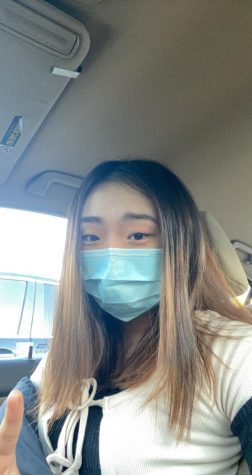 Elle Chen, Production Manager
Elle Chen is the Production Manager on RubicOnline. This is her third year on staff. During the pandemic, Elle has been spending a lot of time with her...