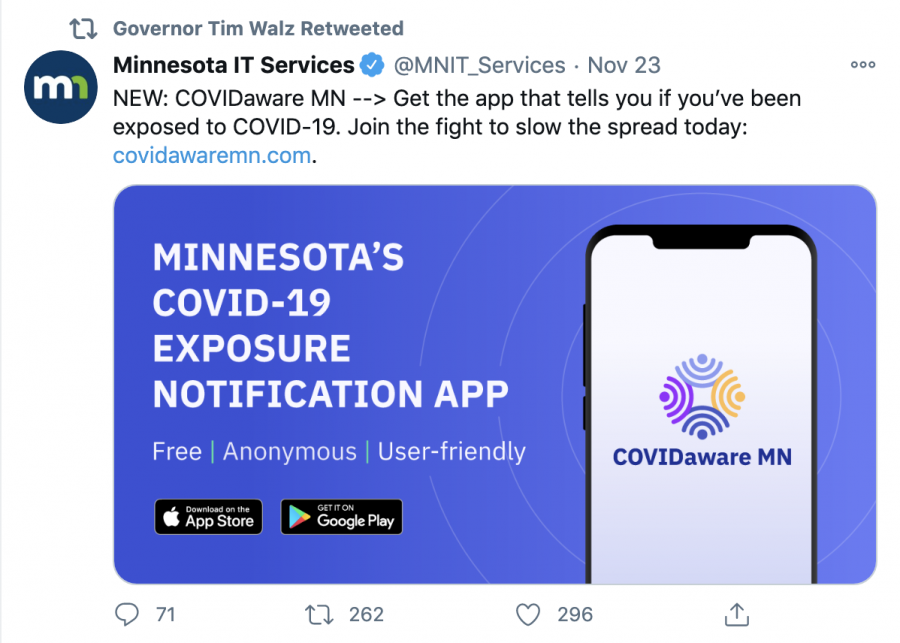 Tweet from @MNIT_Services on Twitter
On Nov. 23, the MN Department of Health released a COVID-19 contact tracing app called COVIDawareMN. The technology was available in several other states before it was released for Minnesota.
The app anonymously contact traces the user's exposure to COVID by notifying users if they have been within a 6 foot distance for more than 15 minutes with someone who tested positive for COVID-19. Users turn on a setting in the app called "Exposure Notifications," and their phone is tagged with random, anonymous IDs that change every 10-20 minutes and don't contain any personal information.
Phones who have the app trade those IDs when they come in contact using Bluetooth, allowing them to share IDs even when the app isn't open. When user receives a positive COVID test result, they are given a verification code from the MN Department of Health that they can enter into their COVIDawareMN app. That verification code isn't connected to personal information, and allows the app to fact checked test results and protect against false reports. Every users' phone periodically checks the database of IDs that were flagged for positive test results, and compares them to the IDs stored in the phone. If they match, the user gets a notification that they were exposed to COVID-19 and the amount of days ago that they interacted with the person with the positive test result, keeping the person who tested positive anonymous.
Governor Walz spoke about the new app at a press conference on the day the app was released to the MN public, Nov. 23.
The app guides users who have been exposed on what further action they can take to minimize spread of the virus. Walz said, "There is no data tracking, there is no data collected, there is no data sent to the MN Department of Health, nor to Google, to Apple, to anyone. It is simply a random key that's generated that guarantees privacy, but gives you another tool to know [if you have been exposed]."
Members of the SPA community, including senior Mia Schubert, have downloaded the app to be safe.
Schubert said, " It hasn't been that helpful because I haven't gotten any notifications, but also I haven't been going out much. I downloaded it because the state of MN recommended it, and I understand how the technology works so I trust it."
The COVIDawareMN app is available in app stores. For more information visit the official website https://covidawaremn.com/