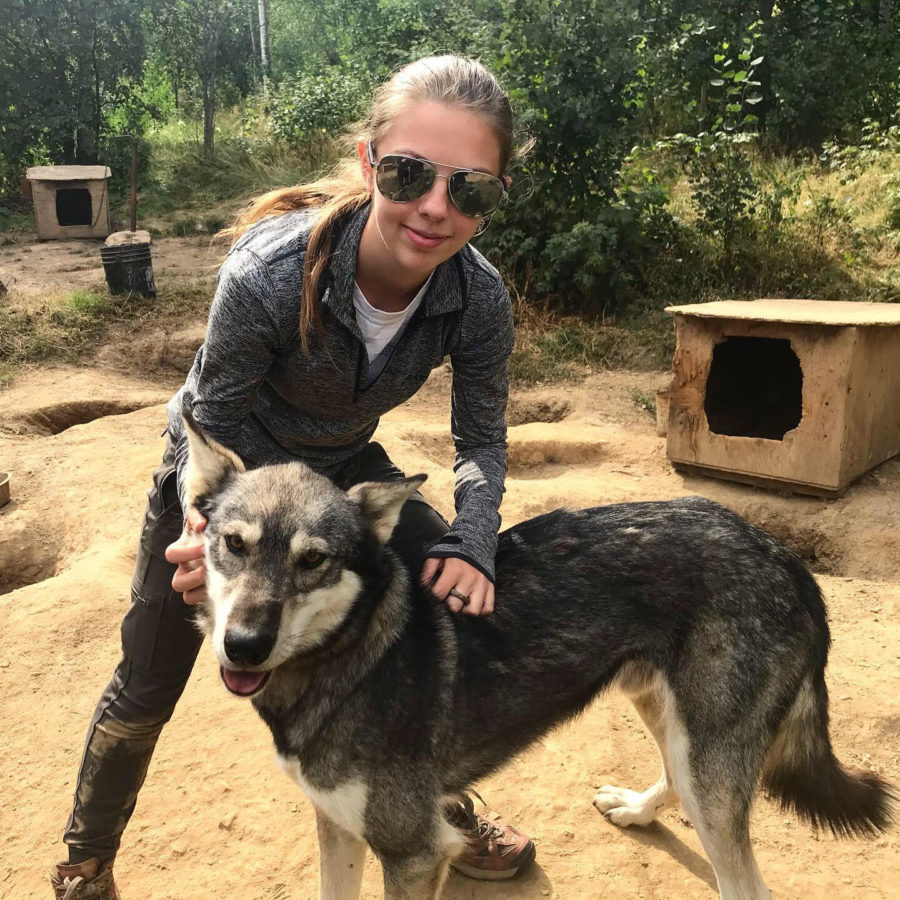 Submitted by Fiona Rucker
Senior Fiona Rucker's gap year won't consist of travel, internships or any of the other usual occupations pursued by gap year students; instead Rucker will be heading to Alaska, doing work in an environment that would be foreign to most high school students. Rucker will be living in Alaska to help her relatives with a trapline (a series of traps set up for catching game) and pursuing her private pilot's license.
She explained, "I have some relatives who run a trapline in Alaska and I'm planning to go up to them After Christmas and stay with them through May. They live in an extremely remote area a couple hundred miles from the nearest main road so they generally appreciate an extra hand with chores."  What exactly will her responsibilities look like? It's not glamorous.
Rucker explains her responsibilities and noted they will vary seasonally due to the of the extreme's of the Alaskan climate.
"During the coldest parts of winter I will be hauling a lot of supplies (mostly animal feed) that came via plane across the lake and to the cabin to stock up for the winter. Around March I will be doing a lot of wood cutting and in May I will be helping set up the garden," she said, "Beyond that I imagine I will be doing a lot of daily chores like feeding and walking the dogs, cleaning out spaces and getting things ready for spring. If I am able to, I'm hoping to also work the trapline a bit."
The natural curiosity about someone with plans as unique as Rucker's is why they want to pursue the experience. An important part of it, for her, is being able to tangibly help her relatives, while learning about the unique skills required for this type of remote living.
Rucker said, "A big part of it is wanting to help my cousins on the trapline. They are getting older and one of them needs a hip replacement, so a lot of their usual tasks are much more difficult. Beyond that, I think it would be really great to have a basic understanding of how to [among other things] farm traps, and make clothes."
A real concern for Rucker and her family is the challenge of receiving emergency medical care in the remote setting she plans on living in. Rucker noted that this is one of the few downsides of her planned gap year. "My family (me included) is a little concerned because, during the ice out period there won't be any way to get professional medical help, except via helicopter, if an issue arises."
Rucker and her family are still excited about the opportunity, despite this risk. It came as no surprise to Rucker's family when she proposed her gap year idea. For many, the concept sounds intense and perhaps even frightening, but Rucker  noted that her family, on the contrary, "pretty much expected that I would do something like this since I was ten."
Rucker has received almost entirely positive feedback from friends and family about her proposal. Acknowledging that, "most people are really interested and supportive of my plan."
Rucker will leave for Alaska in just under a year, and assuming she survives the brutal winter and does not get attacked by a Walrus (one of many dangerous Alaskan creatures), will return to civilization in Spring of 2022.