Rowing builds Linn's competitive drive
With early morning practices, intense regattas, and the thrill of being on the water, rowing is an intense sport. It takes commitment, energy, and lots of time.
Senior Samantha Linn started rowing the summer before her junior year. "I remember sophomore year at volleyball tryouts, my friend showed up for one day and didn't come back. I asked her why. I thought volleyball was the best sport ever, but she said 'No no no you're wrong; rowing is the best and you have to try it,' so I tried it and I quit volleyball," Linn said.
Linn rows year round at the Minneapolis Rowing Club located right on the Mississippi River. She is part of the Junior Team.
"We practice at the boathouse during the spring, summer, and fall," she said. "In the summer the practices are usually around seven in the morning but during the school year they're after school. Over the winter we have cross training at a place called Paddlesculpt which mixes yoga with rowing."
Like all sports, rowing requires a huge time commitment that can be hard to balance with homework and other school demands, but this does not affect Linn's passion for the sport: "I'm usually sleep deprived, but it [rowing] is something I can't really imagine my life without. It helps me stay focused in school because I feel more awake once I've rowed," she said.
Another aspect of the sport that is highly appealing is the opportunity it presents for meeting new people and developing friendships. "I like the community; most of my friends row and I met them through the club. The times that I see them are very focused and structured around practicing as hard as we can and preparing for whatever race is coming up," Linn said.
A huge aspect of rowing are regattas. These competitions draw clubs from all over Minnesota. "I love going to regattas…they're kind of based around food. There is lots of free food and meeting people from other clubs and meeting people in different levels in the sport at [the same] club like the masters of MRC or the collegiate rowers, "Linn said.
Nonetheless, competing can be stressful and takes some getting used to."Competing is always nerve racking. I remember my first race ever: I went into it super confident that we were gonna beat everyone by at least a minute in a 2K race."
But it didn't turn out that way: "We got last place by over two minutes and I caught (I think) 12 crabs, which means the ore gets pulled under water and you can't pull it out." Linn added that "never happens to me anymore now that I'm well rehearsed in the sport," Linn said.
Because rowing presents such a different environment than school, Linn said the friendships she forms with people from rowing are unique. "At school people seem so stressed about studying for tests or doing their college applications that it's hard to find time away from that," she said.
Even though rowing is a huge commitment, Linn emphasizes that it has a place for everyone. And luckily, with lots of clubs that have strong youth rowing programs around the Twin Cities getting involved isn't hard. "I encourage everyone to try it. You will be in the best shape of your life and you can meet new people that you would never meet otherwise, " Linn said.
Leave a Comment
About the Contributor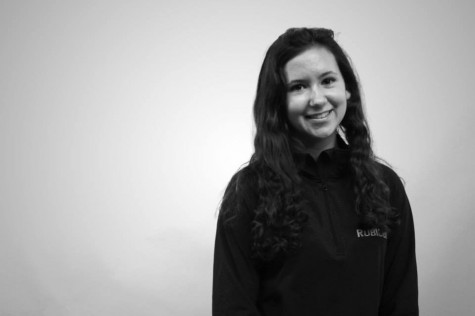 Nina Zietlow, Feature Editor
On her second year on staff,  junior Nina Zietlow will serve as the Feature Editor of The Rubicon. Her favorite thing about working for The Rubicon is...