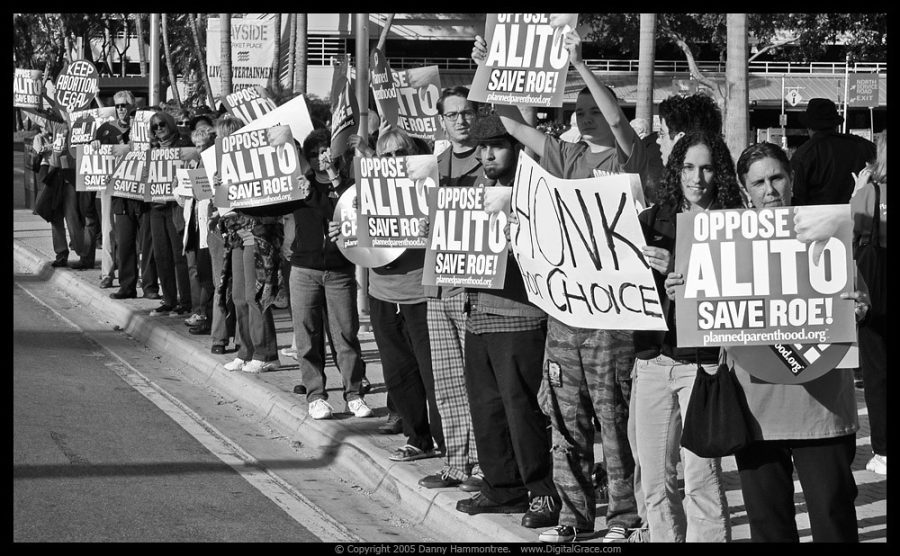 Danny Hammontree
A leaked Supreme Court opinion revealed that landmark decision Roe v. Wade could be overturned, drastically restricting abortion access across the country and eroding the court's substantive due process.
Roe v. Wade is a law set by a 1973 court decision that constitutes it unlawful for states to overly restrict abortion. The Supreme Court's 7-2 decision cited the 14th amendment's due process clause, which states that no state shall "deprive any person of life, liberty, or property, without due process of law." The decision stated that a person's privacy is implied in the clause and that excessive state regulation on abortion infringes on a person's privacy.
"The legal concept is called substantive due process, which says ironically that there is no amount of process that could take away the certain substance of rights. So even if a majority of a state wanted to do it, there are some decisions that are beyond the reach of the democratic process. They are tied to individual rights, this one being a woman's right to choose," Upper School history and government teacher Aaron Shulow explained.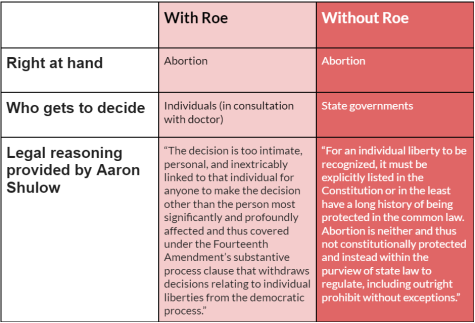 Roe v. Wade has stopped dozens of states from imposing abortion regulations, though many have still tried. For people in conservative states, Roe v. Wade is the only thing protecting them from government interference with their access to abortion.
On May 2, Politico leaked a Supreme Court opinion drafted by Justice Samuel Alito showing that SCOTUS is poised to overturn Roe v. Wade in a 5 to 4 majority.
"Alito would say abortion is not in the constitution, and therefore is not a constitutional right and there is no protection. Which then in the federal system, returns power to the states," Shulow said. "Alito would say substantive due process shouldn't exist. The right has to be explicitly laid out in the constitution, or there has to be a history of protecting the right to finally constitutionally recognize it."
Originalists like Alito believe that only rights explicitly laid out in the constitution should be protected. This reasoning behind overturning Roe v. Wade poses a threat to rights other than abortion, such as same-sex marriage and intimacy.
Attention has turned to states that have "trigger laws," laws nearly or fully outlawing abortion that are set to go into effect almost immediately if Roe is overturned. Overturning Roe will not have as great an effect on blue states or states where the majority of representatives support reproductive rights, such as Minnesota. Though, in states like Texas, Mississippi, and the Dakotas, abortion access could change essentially overnight if Roe is overturned. For example, in Louisiana, without Roe v. Wade, people would be forced to drive an average of 630 additional miles for an abortion.
According to the Pew Research Center, 59% of Americans think that abortion should be legal in all or most cases, and since the Supreme Court leak, many are taking to the streets and social media to speak out in defense of abortion rights.
"The thing to consider is who gets to make what decisions for whom. Whether that's the court, whether it's the legislature, whether that's an individual. But, we should be really mindful about who gets to decide what for whom, and then ask why," Shulow said.
The Supreme Court will likely wrap up its spring term in mid to late June, when it tends to release its most controversial opinions.