Robotics teams shine at FIRST Tech Challenge, qualify for state tournament
On Saturday, Jan. 21, both robotics teams, The Autonomice (#11117) and The Robotters (#12660), competed in the FIRST Tech Challenge and qualified for the state tournament. The Autonomice won the Connect Award (outreach and connection with the community) and was a finalist for the Motivate Award. Additionally, The Robotters won the Stratasys Award (3D printing) and the Inspire Award (the highest award given at the FTC Robotics competition) and was the finalist for the Connect Award.
During a typical 2023 robotics challenge, there are two teams, blue and red, and each is lined up on the opposite sides of a 12 ft-by-12 ft field. There are thirty red cones and thirty blue cones in the middle of the field with 25 junctions of various heights. The main task of this competition is to have the robot score points (both manually and by the program) by putting cones on the ground, low, medium, and high junctions.
With many first-year rookies on both teams, it has especially been hard to work simultaneously when both the building group and the coding group add stuff to the robot and alternate the testing phase. During competitions, both teams faced difficulties like the robot malfunctioning when the strings which attach the claws of the robot snapped. "We repair it between rounds, or we couldn't use the claws for that round," sophomore Belle Weng said.
One way to qualify for state is by doing really well during the face-off round and the competition itself, but another key part of this competition is about team effort and outreach.
"
We've done a lot trying to get people into robotics."
— Paul Melby
"A lot of members of our team were part of SPA Middle School. And the Middle Schoolers do FIRST LEGO League. We go back and we'll go talk and help the middle schoolers out with their LEGO League stuff," sophomore Weng said.
In addition, the US Robotics team also hosted "Hour of Code" with the Middle School, an event where the US students presented their competition bots to the kids for them to drive and learn more about robotics.
"We've done a lot trying to get people into robotics. One of our team members had four kids come up to them [after the event] and asked how they can do robotics. So the fact that that happened is really cool," junior Paul Melby said.
The SPA robotics teams' strong collaboration and their influence in the community made them distinguishable among many of the other teams. The state tournament will be on Feb. 11, where each team will continue to modify their robots and chase their dreams.
Leave a Comment
About the Contributor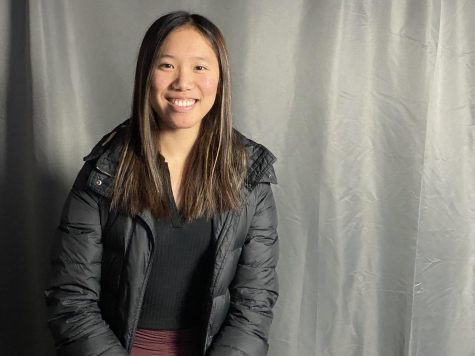 Rita Li, Feature Editor
Hey! I'm Rita Li (she/her) and this is my second year on staff. I was a Podcast Editor (2021-2023) and am currently a co-editor for the Feature section...