Rhys Conlon's colorful, abstract work arrives next at the Drake Gallery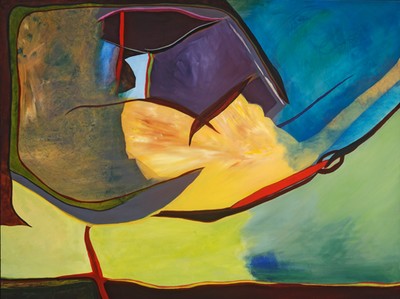 Rhys Conlon's Absence swells with shades of yellow and brown. As the eye moves across the canvas, it comes into contact with an expanse of dark blues and greens. A few dashes of red complete a painting as intellectually diverse as the woman who created it.
From Sept. 27 to Oct. 26, Conlon will display her exhibit, Dissecting a Rainbow, in the Drake Gallery. Conlon has devoted her life to art and is especially fond of painting. Her exhibit utilizes color and texture to "[abstract] from all different sources of light." Indeed, Conlon takes solace in painting, which she says is a "very natural thing for me. I don't remember not making art. It's challenging in a way that other parts of my life are not."
Conlon, who currently works for the Hirshhorn Museum and Sculpture Garden in Washington, DC, is also glad to return to SPA. "SPA is really the place where I first blossomed as an artist," Conlon said. "I think the teachers there really put a strong emphasis on art and developing creativity." She believes that the independence her teachers gave her was instrumental in creating good artwork. "The teachers at SPA teach you the skills you need, but are also pretty open about letting you find your own voice at an early age … They allow you to grow."
Conlon's greatest hope for the exhibit is that it attracts students to art in the way that she was attracted to art. "When I look at art, I want to see something I hadn't thought of before, or be touched emotionally in some way, or be visually stimulated," Conlon said. The artist's reception will be on Friday, Oct. 5. Until then, SPA eagerly awaits the return of one of its many esteemed alumni.