[REVIEW] Potted Potter is a fresh take on Rowling's classic series
A "Hedwig's Theme" knock-off floods the theater as the audience streams into The Pantages, each person holding a roll of parchment in place of a playbook. Excited chatter joins the music as the crowd waits in anticipation for Potted Potter–The Unauthorized Harry Experience. The show, which began in 2006, promises to condense all seven Harry Potter books into 90 minutes of hilarity. It lives up to that promise.
Potted Potter is a two man show— one actor plays The Boy Who Lived, the other plays every other major character from the series. As you can imagine, hijinks ensue. From animated videos that move at a breakneck pace, dance battles, and ridiculous costumes to eating cake off the floor, the play does, in fact, go through all seven books and never has a dry moment along the way. But what really makes Potted Potter truly hilarious is the level of audience involvement.
Scattered throughout the 90 minutes of stage time, there are plenty of opportunities for viewers to embrace the hilarity and nostalgia of the show by actually being a part of it. Highlights in include a game of "Quidditch," in which the audience is split in half and teams then compete to smack a beach ball through hoops at either end of the theater. Meanwhile, young children volunteer to come on stage to be the "Seeker," which ultimately ends with an actor in a ridiculous golden costume being body slammed into the floor. To complete the "Muggle version" of the famous wizarding game, the losing team is drenched with a Super Soaker.
Added hilarity comes from stand-up style dialogue. The actors bicker with each other incessantly and throw in the occasional snide, sarcastic comment about J.K. Rowling (and American politics).
For fans of the original series, Potted Potter will be a hit. It's the perfect blend of nostalgia, humor, and absolute chaos. Even diehard Potter fans will find it hard to predict what's coming next, as the audience is constantly on its toes. If you haven't read Harry Potter or at least seen the movies, prepare to be overwhelmed— some of the jokes will make sense, but the main trope is making fun of the original stories. With plenty of references for Potter fans mixed in with the non-stop comedy, the play provides a fresh outlook on J.K. Rowling's classic series.
Buy tickets here.
Leave a Comment
About the Contributor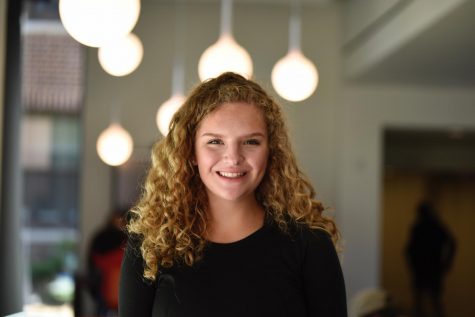 Isabel Gisser, Production Manager
Isabel Gisser is the Production Manager of RubicOnline. This is her third year on staff. Gisser appreciates journalism for its ability to express the voice...