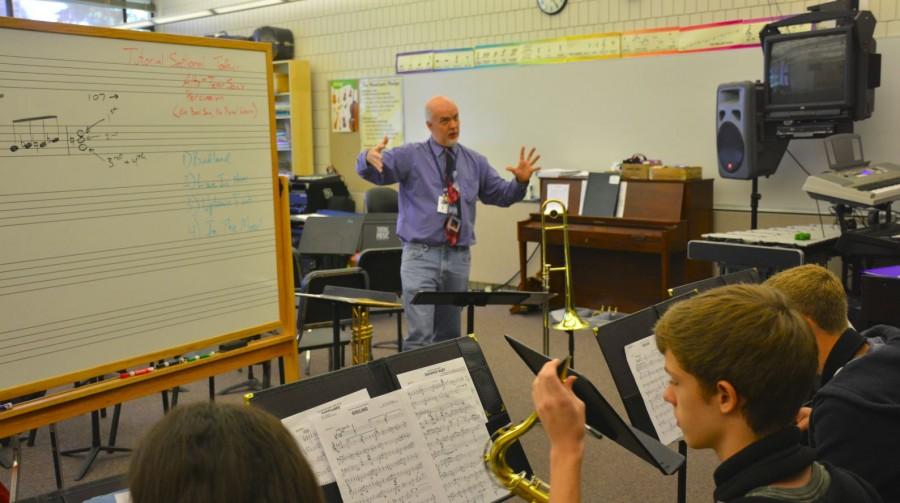 Diane Caravela
Walk into the band room and it's not uncommon to hear loud melodies and syncopations and, until his sabbatical, to see US band director Bill Mayson in front, conducting the band. For the first semester, while Mayson is away, Randy Reid is the man leading the Intermediate and Advanced Jazz bands, as well as the middle school band.
Reid has been teaching for 17 years, after spending time at Edgerton, Mounds Park Academy, and The Blake School. 
"When I was at Mounds Park Academy many years ago, I had two Jazz Ensembles there, and I really enjoyed doing the Jazz ensemble aspect of the program," Reid said.
In his first weeks at SPA, Reid has seen a lot of great things in the band room.
"The Intermediate Jazz Ensemble has been really great to work with. They've made lots of progress in just the first three weeks of school," Reid said."The Advanced Jazz Ensemble has really blown me away with their ability to learn stuff quickly," he added.
Reid will be the first band director to lead the bands in the new Huss Center."It's a beautiful space," Reid said of the auditorium, "I'm looking forward to being the director that gets to have the Jazz Ensemble play in there for the first time—It's really cool."
This story was originally published in September 2015 print issue of  The Rubicon.