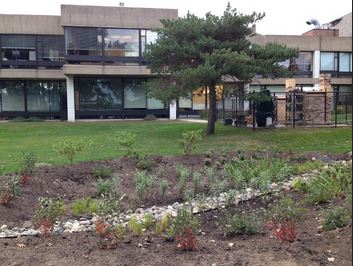 Photo credit: Kathryn Campbell
As it rains, a drop of water splashes on a parking lot. Since it can't be soaked into this hard surface, it joins a parade of other water droplets rolling down to a sewage pipe, picking up oil, fertilizers, salt, and garbage. These droplets of water have become urban runoff, filled with pollutants, and heading straight for the Mississippi River.
Urban runoff has become an increasingly serious problem. According to the United States Environmental Protection Agency, urban runoff is reported to have caused habitat changes including temperature increases and sedimentation which have contributed to major losses of fish populations.
Dismal as it may sound, there are ways to keep urban runoff from being carried into Minnesota's rivers or lakes.
The student group People for Environmental Protection (PEP) wanted to do their part to minimize runoff. Because of PEP efforts, St. Paul Academy and Summit School has its own rain garden.
"Our rain garden is right by the kiln, outside near the playground for the middle schoolers, built in a ditch," junior president Ora Hammel said. "That hole usually gets a lot of gross, muddy water after it rains or if snow is melting. So it will be good there because it will get the excess water."
Ordinarily, building a rain garden is very simple. For this one in particular, though, it was a lengthy process.
"Initially we were going to do it on state land. So we had to send a request to the government to be able to build a rain garden there. But they never got back to us, so we changed the plan to be on our land," Hammel said.
Once PEP had finally decided on a location at school, they needed some help putting their plan into action.
"It was a lot of administrative work, the maintenance staff were a huge part in it, so we thank them very much," Hammel said.
Rain gardens are most often built at the bottom of a hill so that water will flow into it and be absorbed. The garden can then use excess water for fertilization. They are a simple way of helping prevent runoff.
"[The rain garden] is very self-sufficient.  You don't need very much maintenance for it because it uses native plants. Also it's just very environmentally friendly," Hammel said.
Learn how to build your own rain garden here.