Q&A with spartan of the month Kenzie Giese
On Friday, March 8. Senior Kenzie Giese was announced as February spartan of the month. Giese, after coming off of her final season playing for St. Paul United, greeted the nomination with bittersweet spirits as her senior season had just ended shortly prior to the award. Giese opens up to explain what her time playing hockey for SPU has been like and reflects on what she would have done if she could go back to day one.
How does it feel to be Spartan of the month?
"I'm truly honored to be Spartan of the Month. I was not expecting this nomination but I'm really excited because its an award that I have wanted since freshman year."
Now as a senior, and spartan of the month, what has been your favorite memory playing sports for SPA/SPU?
"I would have to say that my favorite memory is from this season/this year's state tournament. In the past, I  didn't get to play in the games to get to state and in state so actually being apart of the process and hard work that it takes to get there has really been something special. Having my personal work pay off this year really felt like I earned it versus in the past when I was just on the team and not playing."
What was your experience like during your senior year?
"Even though it was my senior year it was full of its ups and downs. However, in the end, I look back at it with positivity and am happy with how it went and all the memories that we made as a team. Additionally, the fact that we had such a hard schedule this season made me really appreciate the victories we did have."
What has been challenging about this year?
"I would say that what was most challenging about this year is having a new coaching staff. With the new staff this year we essentially got a new program and a lot of our traditions got altered from previous years. Additionally, having a younger squad this year in combination with instituting new lines/systems proved to be an obstacle."
Describe senior night/ what was that experience like?
"Senior night was so special and emotional. It was really nice to get a win but on top of that, it felt really special for me because I got my only shutout of the season. Also, being a senior this year, the girls on the team made letters and decorated the rink for all of us which was an enjoyable experience after so many seasons planning for senior night myself."
What has been your favorite season so far?
"This year has definitely been my favorite year but not because of our success and my participation in making it to state. This year, our team was really close and we all meshed in a way that it felt like we really got to be ourselves."
What advice would you give to younger athletes at SPA?
"I would say to soak it all in and don't take anything for granted. As cheesy as that sounds you are always going to go through ups and downs and as easy as it can be to be down that isn't what you should do: you are going to get out of it what you put into it. If you play for the team and not just for yourself you will get way more out of it and that's something that I wish I would have known as a younger athlete."
What was it like being a senior but not a captain?
"With the switch up in the coaching staff this year we only had one captain (which was a switch up from last year). So, I, along with the other seniors, had to embrace that and just worry about contributing what we could. At the end of the day, I still felt like an unspoken captain and all the seniors stepped up and had a voice."
How would you describe making a four-peat to state run?
"When you take a step back making it to state is a huge deal. I realized that I kind of took it for granted; going to state was the norm. It was not until junior year where we almost lost to South St. Paul when it hit me that the state tournament experience is such a big deal."
What was your biggest regret?
"My biggest regret would probably be not advocating for myself when I could have and not having as much confidence in myself. Honestly, when I was younger I didn't have as much confidence to advocate for myself in the foggy goalie situation that we had on the team. But, I wish that I would not have let sitting on the bench effect my self-confidence outside of the rink."
About the Contributor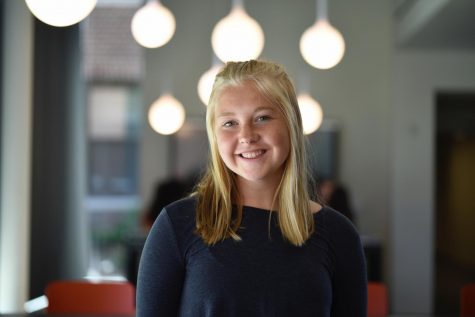 Emma Sampson, Sports Editor
Emma Sampson is the Sports Editor at RubicOnline. Going into her third year on staff, she is excited to edit and publish in a section that she is passionate...