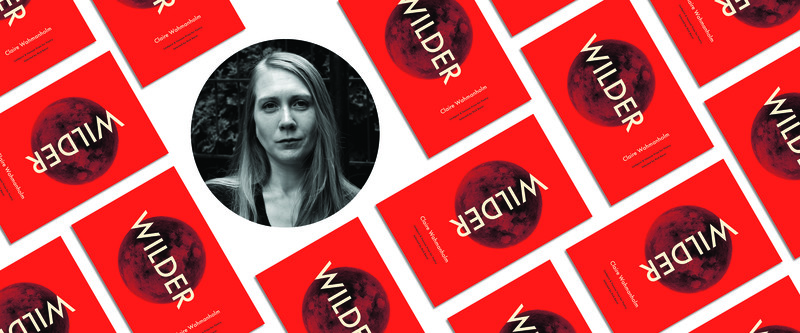 Have you ever wondered how a poet thinks about poetry? Upper school English teacher and poet Dr. Claire Wahmanholm shares her writing process below. She is the author of Wilder, described as "a lyric and formally daring collection" by Poets & Writers, and read a portion of her work at the Bell Museum in early December. 
Q: What do you think is the best environment for writing? Coffee? Music or no?
A: I can't listen to any music with words when I write–it totally derails me. I have a lo-fi Spotify station I listen to that's pretty legit. I sort of miss the days where I could drink shot after shot of espresso, but my heart is probably grateful for the break. I need a long stretch of time if I'm going to write. Some people can write down part of a poem or part of a scene or whatever when they have five minutes, but I need at least two hours if I'm going to be productive in that way. It's not terribly convenient. I can't write by hand–it has to be on the computer so I can get a sense for how the lines look on the page, etc.
Q: Do you decide on the form or structure of a poem before you start? Or is the writing more a form of wandering?
A: Ooooh, I love that. I would say that most of my poems are wanderers, but in some cases I'll write with the form in mind–especially if I'm writing a poem in a series. For example, I'm working on a series of alphabet poems that I'm slowly adding to, so for a poem to fit the sequence, it has to adhere to the rules/form of the previous poems. I'm working on M right now. I find that starting with form first isn't usually helpful for me, but there are always exceptions to the rule. Knowing you're going to sit down and write a sonnet, for example, dictates a lot of the choices you can make, so you go in with your options already limited. It can be helpful to have those restrictions ahead of time so you're not totally at sea.
Q: How do metaphors function in your work?
A: I think I use metaphor/figurative language as a way of making an idea/description/whatever more accessible to the reader. Ideally, it gives them a point of entry into the poem if they weren't following me already. The more concretely they can picture/feel something, the stronger their reaction to the poem will be.
Q: Do you ever imagine writing for a specific person, or a more general audience?
A: Definitely for a more general audience. If I tried to write for a specific person I think the poem would end up feeling inaccessible to just about everyone else. My poems aren't going to be for everyone, of course, but I'd like to think that they could be for anyone.
Q: Do you feel different about your poem when it is read aloud?
A: I don't usually read poems out loud while I'm writing them. That is, I obviously read them back to myself in my head, but not actually *aloud* aloud. Usually the first time I'll hear one of my poems out loud is when I'm doing it at a reading or something (which is risky). And I also hate the sound of my own voice, so I avoid reading aloud it until I absolutely have to do it. But if we're talking about other people's poems, then definitely, the poems take on a whole new life when they're spoken aloud vs. when they live on the page. In an ideal world, they're much more emotionally affecting, much more immediate and visceral (if the person is a good reader, that is). It can always be a let-down when someone is a poor performer of their own work. It's a missed opportunity.
Q: How do you know when a poem is finished?
A: I will admit that sometimes I "cheat"–that is, if feel like a poem is maybe finished, I'll send it out to a few places, and if it gets picked up, I'll decide it's finished. If it doesn't, I'll keep working on it. Sometimes it's more clear that a poem is done–when I read it back to myself, it gives me a little shiver, or a feeling of vertigo for a second–like the floor is falling out from under me.