Prozinski shares winter skin care tips
From the first snowfall, students become entranced with the beauty of winter; they run through the snow, building snowmen and getting mildly severe frostbite. But, from the first glaze of frost on the grass, winter brings the promise of a dry dermis, creasing or cracking concealer, lipstick lines and a horrifying end to soft skin. However, students looking for ways to remedy the beauty damage caused by the cold don't need look any further.
"A change I notice in other girls' skin is that their face especially gets dry, and then they put their normal foundation over that. It really, truly makes it worse. The product gathers in any cracks in the skin and around loose flakes," sophomore Oona Prozinski said. For dryness from the lips and face down to one's toes, gentle exfoliating can remove peeling skin. An exfoliator can easily be whipped up for the face and body by mixing a cleanser such as Cetaphil with sugar, salt or coffee grains and rubbing the mixture on the skin in circular motions. Prozinski recommends
"I recommend exfoliating your skin and using either face masks after school or heavier moisturiser at night". Along with exfoliating, Prozinski states the one product she consistently uses throughout the year is mascara because "the simpler, the better" and weather changes don't usually affect mascara's appearance.
For the lips, rubbing Vaseline petroleum  jelly on the lips and gently scrubbing with a towel can make them baby soft again. Another lip-option is creating a scrub similar to a facial exfoliator, only with honey and sugar (and yes, it tastes amazing).
Dandruff can also be an annoying side effect of winter fun, so using coconut or olive oil on the scalp for an hour to even a day works wonders (although most likely won't be a permanent solution). And while using oil on the scalp, why not use it all throughout the hair? In fact, why not throw in a face mask and some scented body butter to that mix? Pampering oneself during the winter can help combat seasonal affective disorder (the winter-blues) while also benefiting one's body.
One solution which works for all of these issues is to drink more water. Although students may not feel thirsty because they aren't walking around in the sun, the body still produces sweat in the cold and the dry air strips exposed areas of the body. Carry around a water bottle, or make frequent-fountain stops during school to keep the body hydrated and happy. "A super important thing when using moisturizers any time of the year is to make sure that what you're using doesn't have alcohol in it. That just dries out the skin," Prozinski stated.
In terms of fearing the effects of cold on makeup applications, foundation, concealer and powder will apply better onto exfoliated skin and wearing lipstick or gloss with lip balm after exfoliating will help prevent feathering and further lip-peeling
So go grab that magazine or favorite book, slap on a face mask, rub some sweet-scented lotion on that exfoliated dermis, sit back and sip some hydrating water knowing that tomorrow your makeup will glide on smoothly.
About the Contributor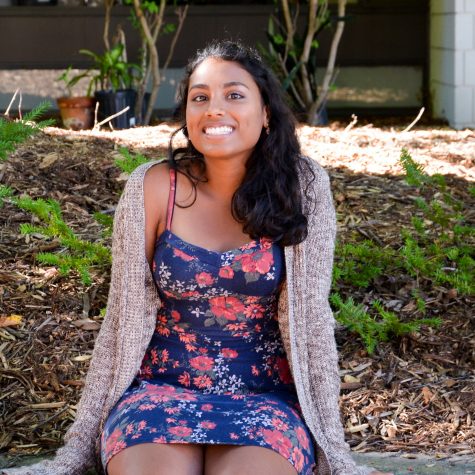 Amodhya Samarakoon, RubicOnline Chief Visual Editor, Aureus Editor-in-Chief
Senior Amodhya Samarakoon serves as the RubicOnline Chief Visual Editor and Editor-in-Chief of the new quarterly feature magazine The Aureus. Amodhya's...