Potential college students value environmental action, universities respond
In a recent survey conducted by The Princeton Review, 66 percent of the 12,845 college-bound teens and their parents said having information about a college's commitment to the environment would affect their decision to apply or attend.
Colleges and universities across the country are springing into action. The University of Minnesota has scheduled a full exit from fossil fuel-related investments in the next five to seven years. The school will also no longer make private investments in funds "that invest primarily in fossil fuel extraction or processing," according to a U of M statement posted September 24. Some of the money will be put toward opportunities outside of energy, and some will be replaced by commitments to renewable or clean energy.
These changes come after years of heavy lobbying. U of M students previously passed a resolution requesting divestment from fossil fuels in 2013. Colton Werner, an SPA Computer Science teacher, and Publications Assistant is a recent U of M graduate who saw that lobbying first-hand. On-campus protesters "had a bullhorn and were yelling 'Stop fossil fuel U'," he recalled.


This student pressure has been seen across other campuses as well. In 2020, the Association of Big 10 Students unanimously passed a resolution asking all Big 10 Universities to divest from fossil fuels. As a result, the University of Michigan and Rutgers University have begun divesting from the fossil fuel industry.
Outside of the Big 10, Harvard University is also making changes. In a September 9 statement, Harvard President Lawrence Bacow revealed that Harvard Management Company is not directly invested in companies that "explore for or develop further reserves of fossil fuels," and does not plan on making such investments in the future. "Given the need to decarbonize the economy and our responsibility as fiduciaries to make long-term investment decisions that support our teaching and research mission, we do not believe such investments are prudent," Bacow said.
While senior Sarina Charpentier hadn't previously been considering sustainability efforts in her college decision, she acknowledged such initiatives as important. "It's nice to know that a highly reputable college in my community is doing that," Charpentier said.
Likewise, senior James Montague had only been looking at college sustainability plans "a little bit" and didn't consider them a factor in his decision. However, he said a school's action on climate change is "something to consider if you do go there about something that you can possibly change or advocate for."
Leave a Comment
About the Contributor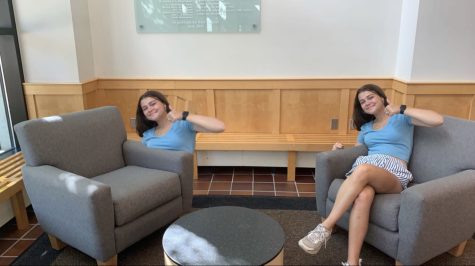 Johanna Pierach, Good Question Editor
Hi, I'm Johanna Pierach (she/her), The Rubicon's Good Question editor for the 22-23 school year. This is my second year on staff, and last year I worked...