Poetry class uses English commons to read poems about activism
This is the first year the poetry readings have happened. Connection and Community class performed poetry on activism in the English Commons on Oct. 15. Students read poems about topics ranging from the assassination of Harvey Milk to changing the world and the importance of acting on an issue versus talking about it.
US English Teacher Philip de Sa e Silva holds the readings because he wants to introduce SPA to more poetry.
"I'm interested in exploring ways to bring more poetry to the SPA community. The public reading was one example," he said. "The students chose the theme [activism] themselves, just based on their interests."
At the reading, de Sa e Silva read Layli Long Soldier's "Obligations 2", which he said expresses activism in a visual way.
"It shows the many paths activism, or resistance or the failure to resist, can take," said De Sa e Silva.
Junior Adeline DeHarpporte read "What Do Women Want?" by Kim Addonizio. The poem focuses on a red dress and the power that the woman wearing it feels. DeHarpporte chose the poem because she wanted to do a poem about feminism.
"I think the whole poem is a metaphor for catcalling, with women walking down the street," DeHarpporte said, "The poem is about a red dress, but it's also about women's equality."
Junior Gabriella Thompson feels similarly about her poem. She read "We Are Not Responsible" by Harryette Mullen.  Thompson said, "It's about non-English speaking immigrants to the US, and how Americans as a whole treat them, and how the government and the police treat them. I just thought it was a really powerful poem."
DeHarpporte thinks that activism in poetry is important because it puts you in someone else's point of view. DeHarpporte said, "You can understand exactly what someone else is going through. It connects people more, and people can share what's important to them."
Thompson spoke on similar issues. She said, "A lot of times it can be easy to ignore something if someone is directly saying it. With poetry, you get to explore it for yourself instead of just being told everything. There's so much to dive into." Thompson said.
Leave a Comment
About the Contributor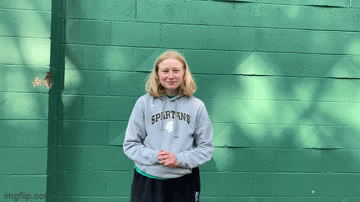 Eve Sampsell-Jones, Chief Visual Editor
Evelyn Sampsell-Jones is the Chief Visual Editor for The Rubicon. They've been working with SPA publications since their freshman year and they're now...