Orca Tribe launch party fulfills mission to connect artists
Indie rock music and friendly chatter harmonize in the spacious cement room. Hanging lights glow from the ceiling, augmenting the relaxed vibe as groups of young adults mull around various art displays. Wall space is partitioned off for writing, photography, visual art, film and music; every art medium has a place at Orca Tribe's Launch Party on May 12 at the Public Functionary in Minneapolis.
Orca Tribe is an organization started by seniors Lutalo Jones, John Connelly and Diane Huang that is dedicated to promoting, publishing and connecting local young artists.
Nearly 80 people attended the event, and almost a quarter of the guests were St. Paul Academy and Summit School students or alumni.
"I am excited to see things that students put together. It's impressive," senior Leah Hughes said.
The event featured music by senior Paul Watkins' string quartet group, and photography by seniors Maya Edstrom and Meley Akpa. The strong showing by SPA students fulfilled part of the overall mission of Orca Tribe: connecting young people to a larger artistic community and engaging youth in collaboration.
"Collaboration is this generation's strongest tool," Jones said.
Junior Daniel Ellis got involved with the launch party by connecting with Huang in computer science class. Ellis 3-D printed block letters spelling out "Orca Tribe" for the event.
"I was like, 'yo, Diane, what are you working on?' And she told me about this website… I am working on a CGI video introduction and web development," Ellis said.
A goal of Orca Tribe is for "people to express themselves in a community of likeminded people," Connelly said.
"
You don't need to be older to start something"
— senior John Connelly
The positive energy and creative atmosphere of the event was conducive to that sort of community: groups of students laughed and bonded over mutual friends, and an open mic outside the warehouse let emerging artists engage. At one point, Huang asked the audience to raise their hand if they create art. Every hand in the room went up.
"You don't need to be older to start something. You don't have to be a certain age. You're alive now, this is the time to do something," Connelly said.
If students are interested in getting involved with the project, Orca Tribe is looking for journalists, artists and computer programmers. Visit their website for more information.
About the Photographer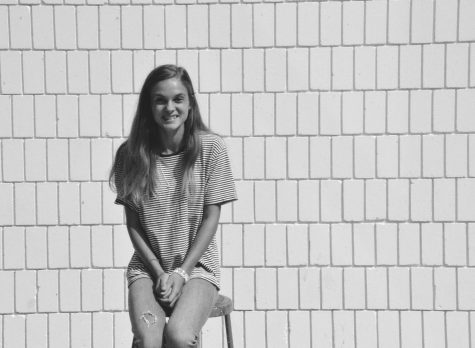 Flannery Enneking-Norton, The RubicOnline Feature Editor
Senior Flannery Enneking-Norton is an environmental science enthusiast, an avid hiker, and the Feature Editor for RubicOnline during the 2017-18 school...