Column: Lack of cooperation between Democrats and Republicans leads to government shutdown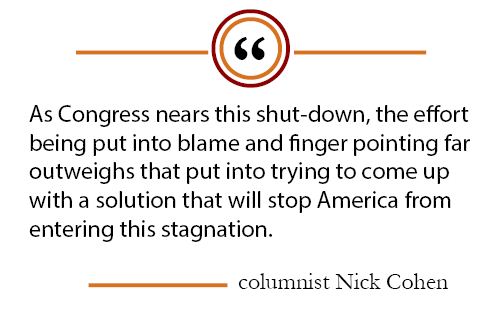 If the United States House of Representatives and the Senate do not reach an agreement on how to properly fund government programs for the following year by Monday, Sept. 30, the federal government will shut down indefinitely. For those in high-end government jobs, this will have a minimal impact, but for those less high up, the ramifications will be huge. Government programs that are necessary for national security or public safety, as well as independently funded programs (such as the Postal Service) will continue receiving funding and would not be affected by the shutdown. Programs that do not directly determine life or death in America, though, will be shut down. For government employees, some will be forced to continue working with no pay, with the promise from the government that they'll get their pay once funding is determined. For other less fortunate employees, they will be effectively let go until funding is determined, with no guarantee of back-pay. All the while, though, members of Congress will receive pay regardless of how quickly the shut-down gets fixed.
This entire situation is absurd. In no way does a government shutdown help our nation. It doesn't help us alleviate differences between Democrats and Republicans regarding what programs deserve funding and which don't. The only thing it serves to show is that there is a complete lack of compromise left in any of today's politicians. On the Republican side, they argue that Democrats are at fault for the situation since the Republicans originally proposed a budget plan. What they fail to include in these accusations is the fact that their budget proposal included delaying all facets of Obamacare for at least a year, something that the Democrats worked extremely hard on and are still trying to implement for the betterment of the American people. On the Democratic side, Republicans are blamed since they refused to compromise on the budget proposal and the Affordable Care Act. Overall, there is a distinct lack of bipartisan cooperation. As Congress nears this shut-down, the effort being put into blame and finger pointing far outweighs that put into trying to come up with a solution that will stop America from entering this stagnation.
Why does the government even come to this in the first place? There is absolutely no need for a shutdown to be used as 'incentive' to get work done, especially when it doesn't incentivize our politicians to action. It only ends up harming American civilians. At this point, the greatest hope we can have is that the shutdown doesn't last very long. The shorter the shutdown, the less significant the impact economically and socially. However, if the shutdown lasts longer than desirable, markets could be impacted and national morale would surely be depleted. On the eve of this shutdown, with little hope for a last minute miracle, we can only hope that Congress figures out how to compromise within the next few weeks.
Leave a Comment
About the Contributor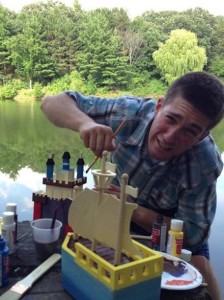 Nick Cohen, Columnist
Nick Cohen is a senior at Saint Paul Academy and Summit School. This is his second year as a columnist for the Rubicon. He enjoys playing baseball, guitar,...