Open mic night compliments Winter Student Art Exhibit
The arts stood in the spotlight while students and teachers enjoy an afternoon filled with opportunities for students to showcase their talents. The art festivities began at 3 p.m. directly after school on Jan. 25 with an art show in the Davern art studio. Iris: Art & Literature had its second open mic night which began at 3:30 p.m.
Iris: Art & Literature club hosted its second open mic night dedicated to giving students and teachers a chance to hear and share writing. The theme was winter, and the co-presidents seniors Amodhya Samarakoon and A.M. Roberts kicked off the event with a poem about snow. Similar to the first open mic night Iris: Art & Literature members put up a decorative sign stating the name of the event.
Students were given the opportunity to share their various pieces of writing, ranging from poems to short stories to a comedy act.
"It was a great experience to be here in front of my peers and my teachers and some of the faculty and to be able to share some of the work that I've worked so hard on producing. It felt really good to have my work appreciated by the community," junior Robin Bartlett said. Bartlett shared a poem that he worked on in his creative writing class.
The Winter Student Art Exhibit reception took place right after school on Jan. 25 to showcase the work of all fall semester students. Orchestrated by Upper School art teacher Marty Nash, the show was a success.
People gathered in and around the Drake Gallery to enjoy and admire the work of students who participated in an art class during the first semester. Each of the students was featured in the gallery. The Winter Student Art Exhibit in conjunction with the open mic night offered students an interactive and distinctive way to celebrate arts within St. Paul Academy and Summit School.
About the Contributor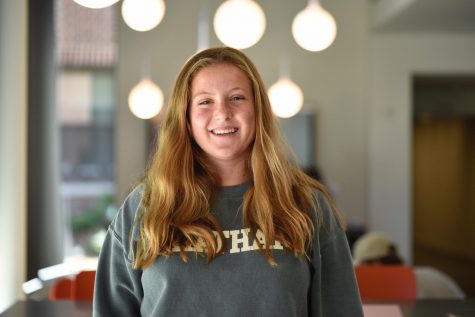 Ellie Nowakowski, Rubicon TV Producer
Ellie Nowakowski is the Executive producer of Rubicon TV. This is her fourth year on staff. She appreciates how journalism has the power to inform and...