On display: the stories behind the US science hallway glass cases
Usually Shakespeare occupies the realm of English and the arts, but as students walk down the Upper School science hallway, Shakespeare's eyes follow their every move.
Even when absentmindedly passing through, it's hard to miss the tall, glass display cases set into the entrance of each classroom. Each case contains an eclectic collection of science-related materials, including a hologram of Shakespeare. Upon taking a closer look, it is apparent that each case has its own story to tell.
"I try to put stuff up that might get people thinking. Sometimes they'll come in and ask me questions," said US science teacher, Steve Heilig, who has taught physics at St. Paul Academy and Summit School for 20 years.
Dr. Heilig uses the display case in front of the physics classroom to show what students are learning and examples of physics applications in the real world. For example, the poster of the St. Louis Arch can help students understand catenary curves, or the shape that a hanging chain assumes under uniform gravity.
"The St. Louis Arch; I always knew it was a catenary curve, but I hadn't really figured out a good way to show that and have a nice display. And it finally dawned on me what I needed to do. I found a nice poster here that doesn't have too much photographic detail so it doesn't lock you in, but it just kind of conveys the shape and you can compare it straight to the actual chain," Heilig said.
The display cases serve not only as a learning experience for students , but also as a reminder of academic achievement in science.
"My favorite display case has to be the one in front of the biology classroom that shows off all of the science trophies and plaques. As a member of the science team, the display always makes me feel good while walking past it. Not only do the displays promote the science team, but they also allow for the promotion of science by showing off different things, like cool rocks, physics, and microscopes," junior Lily Nestor said.
"
[Display cases] allow for the promotion of science by showing off different things, like cool rocks, physics, and microscopes."
— Lily Nestor
Most of the cases represent a certain field of science, but some house unexpected and unique collections, namely a collection of antique cameras and microscopes.
"I was cleaning out the physics room, and in one of the cabinets there were these really ancient cameras, and I thought, 'I don't want to throw them out but I'm not using them.' They take big glass plates of film, so I thought this might be a good way to show the evolution of photography," Heilig said.
In comparison to today's technology applied to physics experiments, the cameras in the collection were used with strobe lights in a dark room to collect multiple exposure photographic evidence which could later be used for calculations.
The same case also contains objects specific to St. Paul Academy and Summit School's history.
"There is a little book written by John Q. Briggs. Briggs Gymnasium is named after him. He was the physics teacher and the Head of School, and I'm not sure for how long, it was a long time ago, and his hobby was radios. Back in the days when just basic AM radios with tubes and things were brand new, he was excited about them, so he learned about them and wrote this book and built this box and did all sorts of cool stuff," Heilig said.
These display cases have been a fixture in the science department since the hallway's construction in the 1970s. However, as the science department transitions into the new Hugh K. Schilling Center for Math and Science for the 2018 school year, the cases will no longer be in use. Heilig hopes to find a new way to not only showcase interesting subject matter from science courses, but to remind the SPA community of present achievement and the school's past.
Leave a Comment
About the Contributor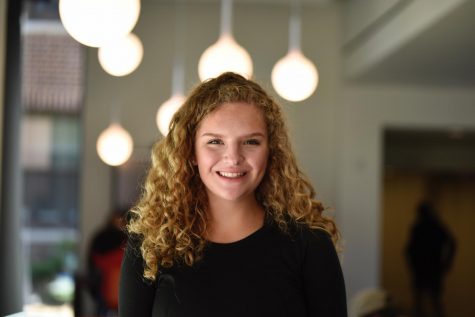 Isabel Gisser, Production Manager
Isabel Gisser is the Production Manager of RubicOnline. This is her third year on staff. Gisser appreciates journalism for its ability to express the voice...