November films capture books alive on the widescreen
As the cold sets in, the time approaches to spend winter nights cozied up with a movie. But looking at the list of films out this November, quite a few have something in common: they're adaptations of popular books.
"If you're going to adapt a movie from a book, you're taking the story and the plot and adding images. It's like illustrating a book, essentially," senior and Film Club co-president Michael Wilkens said. "I think there's a lot of popular books now. Its easier to make movies, it's easier to get people to come, and there's a lot of books that people are getting hyped about, especially little kids," he added.
First in the line-up was Ender's Game, released Nov. 1 from Summit Entertainment. Based on Orson Scott Card's 1985 science fiction novel of the same name, Ender's Game brings a lot of excitement and controversy.
Next was The Book Thief, an adaptation of Markus Zusak's 2005 bestseller about a book-loving girl in Nazi Germany. 20th Century Fox bought the rights to the novel in 2006, and began production in 2012. The Book Thief was released on Nov. 8.
Nov. 22 marks the release of the second movie in Suzanne Collins trilogy: The Hunger Games: Catching Fire, starring Jennifer Lawrence. The final book in the series, Mockingjay, will be split into two movies, similarly to the final books in the Harry Potter and Twilight series.
The list goes on and on. How I Live Now, from Meg Rosoff's 2004 young adult novel, was released the same day as The Book Thief. More are coming soon too, with The Hobbit: The Desolation of Smaug, the second part of the film series of J. R. R. Tolkien's 1937 fantasy novel The Hobbit, to be released on Dec. 13 and The Secret Life of Walter Mitty (the second film based on James Thurber's 1939 namesake short story; the first was released in 1947) set to come out Dec. 25. Warner Bros. Pictures announced their intentions last month to create a film of J. K. Rowling's 2001 book Fantastic Beasts and Where to Find Them as a spin-off to her Harry Potter series.
The new year heralds even more films in this same vein, with the release of the movie versions of John Green's 2012 novel The Fault in Our Stars and Veronica Roth's 2011 novel Divergent, as well as Lois Lowry's 1993 children's dystopian novel The Giver. How to Train Your Dragon 2, the sequel to the 2010 animated feature How to Train Your Dragon based on Cressida Cowell's children's book series, will also be released in 2014."If you're going to adapt a movie from a book, you're taking the story and the plot and adding images. It's like illustrating a book, essentially," Wilkens said.
Why all the film adaptations of books? Historically, there have been many films like these, many of which are quite well known, like Alice in Wonderland, The Wizard of Oz, and Horton Hears A Who, as well as a variety of series; there were eight Harry Potter movies, five Twilight movies, and four movies based off Robert Ludlum's Bourne Trilogy.
"Most movies, or a significant portion, are made after a book, like The Clockwork Orange, Carrie, The Shining," Wilkens said.
Junior Sarah Little attributes it to a lack of creativity. "Writers are lazy. It's easy," she said. "I think it's an easy way to make money," she added.
"It's like a painting a photograph. You're getting inspiration from the photograph: it's not an original thought. But you can still put your artistic touch into it," Wilkens said.
Leave a Comment
About the Contributor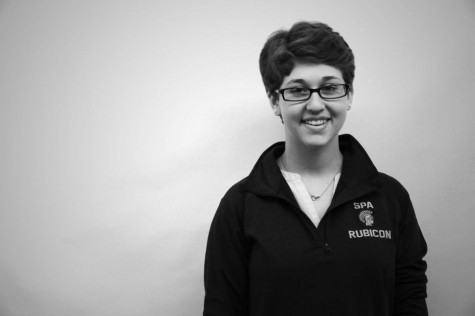 Netta Kaplan, Managing Editor
Netta Kaplan is a junior at St. Paul Academy and Summit School and the managing editor of The Rubicon. She has prior experience on staff as both a Copy...