No more click tracks: music ensembles return in person
After a year of click tracks, modified rehearsals, and early morning Google meets, music electives in the Upper School have returned to a more normal format.
While the ensembles are back in the building as they begin learning their first pieces of the year, each director has implemented COVID protocols to ensure that all music students are safe and protected during their rehearsals.
"We are distanced from each other and sing with our masks on, which can be challenging at times, but the benefits definitely outweigh the drawbacks," Clea Gaitas Sur, a member of Summit Singers, said.
Last year, Summit Singers, the choir that meets twice a week before the school day, made multiple adjustments to their schedule. Beginning with their typical Tuesday and Thursday rehearsals, the group eventually had to switch to meeting only on Wednesday mornings, which significantly cut down their rehearsal times. Academy Chorale, the other choir group in the upper school, also met through Google meets for much of the year and were unable to sing on campus unless they went outside.
These changes, combined with meeting through the computers, limited each student's experience with what choir director Anne Klus believes is so important and magical about creating music: "Music is the universal language. It goes right to your soul and emotions. It's a way to express yourself individually and connect as part of a musical community. It balances out the other disciplines that give freedom to express artistic creativity while also working together as a choir to make music for the singers and the listeners to enjoy. It creates a common bond that is hard to describe but felt by those who participate," said Klus.
Although the band and orchestra were able to play their instruments together last year, they had to spread out throughout the entire Huss auditorium, which presented a number of interesting challenges. Similar to the choir, they had to learn how to record themselves individually and then combine these recordings into virtual performances for the Spring Showcase. As the band and orchestra come together once again, they have gained a new appreciation for their rehearsals and the time they spend together.
"One major point of playing in an ensemble is to accomplish something together that is far greater than what could be accomplished alone. The experience of 90 plus people playing in perfect sync and everyone giving their best, and then making the music come to life is really quite special. Being able to get together in the orchestra room again and playing feels very natural and normal but really is so special after last year," orchestra director Almut Engelhardt said.
Junior Yash Kshirsagar has been playing saxophone in the Upper School jazz band since he was a ninth-grader during the 2019-2020 school year. This means that while many of the current underclassmen are yet to experience a normal year of music electives, Kshirsagar is one of the few people who has been able to go through a typical year of performances and rehearsals in the upper school. He hopes that this year, everyone will be able to see how great the band can really be when they are able to collaborate together in a meaningful way.
"
Music is the universal language. It goes right to your soul and emotions."
— Anne Klus
"Nowadays, both [types of] rehearsals seem weird just because we haven't played in person in the music room for more than a year, and playing online is inherently weird. It's great to finally be able to transition to full in-person playing because the feeling that you get from playing with the whole group can't be replicated online," he said.
In addition to the sense of community that playing music instills in a group, students look forward to their rehearsals as a way to reset during the school day. Music helps them take their minds off of the struggle to balance the stress of classes, homework, and athletics.
"Rehearsals and music, in general, are good distractions from academics because the stakes are very low, and spending this time with friends can make it especially fun," trombone player Awaale Osman said.
Although the question of whether the Pops concert and other performances in the Huss Center will resume this year is still up in the air, students and ensemble leaders alike look forward to what the rest of the year has in store. Directors are already looking into potential pieces for the year and students will begin learning this material in the next few weeks.
Leave a Comment
About the Contributor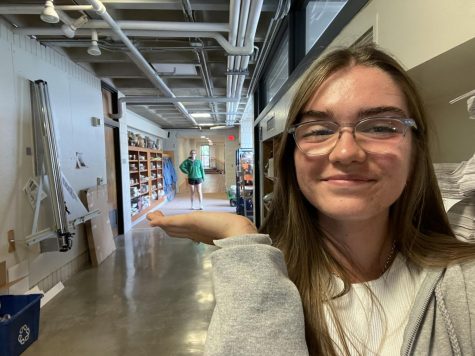 Ali Browne, Production Manager
Hi! I'm Ali Browne, and I'm the Production Manager for RubicOnline. This is my third year on staff and in the past, I have been the feature editor and...