New schedule proves to be successful
Almost an entire school year has passed with the new block schedule, and it's hard for students to remember a time without it.
The block schedule consists of eight total 75 minute class periods, four of which meet each day and alternate order on an eight day rotation. It also includes a 35 minute tutorial, which was added this year to facilitate meetings between teachers and students.
This is a huge change from the schedule last year, which had eight 45 minute class periods per day instead of four. After just one year in use, the block schedule has already been extremely beneficial to many students' studies.
The previous schedule was very tightly packed, with students attending and receiving homework from up to six classes a day.
"I taught at a lot of different schools before SPA, and the old schedule was the most rushed schedule I'd ever taught," Upper School history teacher Nan Dreher said.
The block schedule creates a much more manageable pace in the day. "I love the new schedule because there's less stress for me than last year and a lot more time to meet with teachers. When we had the full schedule that one day this year, I felt super pressured and rushed," sophomore Catherine Johnson said.
While all classes ran at a rushed pace last year, science classes suffered the most. Science labs often took longer than the allotted 45 minutes, and stopping mid-lab was incredibly frustrating for both teachers and students alike.
With the new 75 minute long block classes, students have more time to finish science labs, and teachers are able to cover a topic more thoroughly, thereby increasing their understanding and allowing students to achieve a greater level of mastery of a subject.
This year's homework load, although roughly the same as last year's, is more manageable for students because it's spread out over the course of two days. "I like that homework is not due the very next day" freshman John Addicks O'Toole said.
Students also have more time to work on homework during school hours. "Before, you would have the same amount of homework each night, but now it's spread out over two nights and it feels like less overall," junior Katiana Taubenburger said. The block schedule allows for more time to ask teachers questions and do, overall, a better job on the assignment.
One area that has not been so effective in helping students with their studies is tutorial. The original goal of tutorial was to have a period of time when all students and teachers were free, giving students a chance to meet with teachers and thus eliminating the hassle of coordinating student and teacher schedules to find a time to meet.
Theoretically, this would benefit students tremendously. However, tutorial is not being used as effectively as possible. When students aren't meeting with teachers, they often use tutorial as a social period instead of a work study, as it is intended to be used.
Overall, the new schedule benefits students by creating the opportunity for greater mastery of a subject and allowing them time to do a more thoughtful job on their assignments. However, tutorial should be revised to facilitate effective work in students.
About the Contributor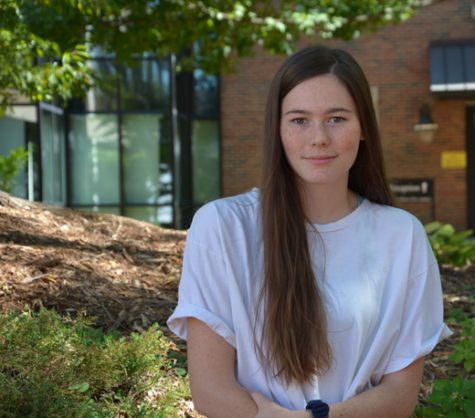 Mari Knudson, Graphics Editor / Aureus Asst. EIC
Mari Knudson is a senior member of the staff, a dedicated student athlete, and the Graphics Editor for The Rubicon this year. She is also Assistant EIC...