New schedule introduces change
Friday is Day 6, but only this week. We completed the first cycle rotation on the Monday of Week 3. There's X-Period, Tutorial, and a seperate lunch block. Students color-code planners and teachers create 75 minute plans as the new Upper School schedule rotates and shifts.
The students, faculty, and administration are adjusting to some significant changes. For faculty, "Those adjustments were mostly thinking about how much homework we might assign and what we might do in class," US English teacher Emily Meisler said. Meisler served on the scheduling task force.
The new academic schedule emerged from a two and a half year planning process by which the task forc worked with teachers, administrators, and an outside consultant.
One overall goal was to slow down the pace of the day. "There are many examples of students who raised great questions at minute 39 [in a 40 minute class] and there was no way of answering it," US Principal Chris Hughes said.
By extending class periods to 75 minutes, teachers and students can delve into topics with greater depth. "It gives us a lot more permission to explore ideas and put the student in charge of exploring ideas," Hughes said.
One academic area that benefits from more the longer blocks is science class. Prior to the new schedule, teachers had to set up labs before students arrived. With longer periods, students can now participate in setting up lab experiments, which is an essential part of the learning process.
Hughes highlighted that the new schedule should also reduce the amount of homework in many classes because students have fewer classes per day.
A key change to the schedule is that school starts at 8:45 a.m. on Wednesdays, instead of the usual 8:00 a.m. because the faculty has meetings before school. This allows students extra study or sleep time.
The schedule rotates on an eight day cycle and classes also rotate to different periods in a given day.
Since students have — at most — four classes per day, there is less homework to manage than there was when all classes met every day.
"I think that the homework schedule benefits students a lot because they are able to plan ahead and they don't feel overwhelmed by one subject," Meisler said.
Another plus is that students have more time to connect with teachers and classmates with lunch, X Period and Tutorial.
"There are just things that we couldn't do with the old schedule that we can now," Hughes said.
The built-in flex time provides students with some freedom to choose what they want to do and whether or not they need support from teachers or collaborative work time with classmates.
"I really like this new schedule. It gives [teachers] time to say hi to students and [greet them personally]," Meisler said.
Upper School Dean of Students Judy Cummins shared that one advantage of the schedule is the way that each class rotates time periods from day to day. For example, a sophomore may have American Literature first hour one day and the next time the class meets, it is at the end of the day. This variety gives students the chance to have classes at different times in the day which is good for students who are not as alert in the morning or perhaps get tired by the end of the day.
With the new schedule, many teachers revised and modified their curriculum.
"One of the greatest challenges is always being aware of how you effectively teach in a longer period," Hughes said.
He added that "none of us should do anything for seventy-five straight minutes in a class."
The goal is to keep students engaged in the topics being covered in each particular course for the entire period. Hughes remarked that even though the administration carefully planned and prepared the new scheduling system, teachers and student need to understand the importance of being flexible.
While the school year is just getting started, Hughes said, "my hope is for students and teachers to keep an open mind and keep talking about the things that work and the things that don't. I don't expect that we got everything perfect the first time."
The ultimate outcome of the new schedule is to provide the best environment for students to grow and learn.
Leave a Comment
About the Contributor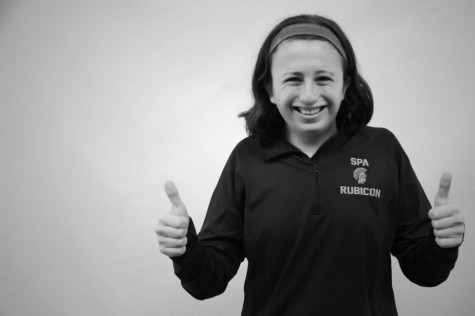 Catherine Braman, Online Editor-in-Chief
Catherine Braman is a Junior at St. Paul Academy and Summit School. Catherine served as Online EIC for first semester 2014 and was a co-Sports Editor...