New health office offers a vital resource to community
Before the addition of the health office, students who felt ill had to either tough it out or try to get ahold of Ms. Short or Ms. Parham, the only two staff members with available couches. The new addition of the health offices offers a much-needed resource to students.
The new health office, which officially opened up for business on Feb. 19, is located past college counseling and to the right of the entrance to the Schilling Center. Open from 8:00-3:00 daily, school nurse Kristy Finn and health assistant Julia Karschney run the infirmary. Either Karschney or Finn is always on campus. Whether students are looking for a place to lay down, some Advil, a diagnosis, or even just to hang out, the new infirmary's new location and structure caters to all US students.
Kristy Finn, the certified nurse, had been previously working with the students at SPA but had only been available and on-campus one day a week at selective hours. Now, Finn is on-campus and able to make diagnosis Monday through Tuesday. For the rest of the week Julia Karschney, the new health assistant fills, in the rest of the time from 7:30-4:00. While Karschney is unable to officially make a diagnosis, she is able to give out Advil, call parents, and administer first aid.
While many students were unaware that such changes were coming, they are embracing the new health office resources and health assistants themselves.
"I had no idea that such drastic changes were coming until they announced the opening of the infirmary in the blue sheet. I think that with all of the changes and additions this year and last, the addition of an adequate school nurse and place to go when you're sick is one of the best ones," said junior Pia Schultz.
However, while there were announcements in the blue sheet and even an informal reception hosted by Finn and Karschney, many students have yet to stop in and get familiar with their new resource. Karschney explains that she, along with Finn, are still trying to find their place in the community.
"So far I love it here and it's really fun. However, sometimes the health offices feel super separate from the community so sometimes I like to pop out from my office to say hi to students," said Karschney.
"
So far I love it here and it's really fun."
— Julia Karschney
While the health office and new staff is still getting used to their new set-up, they have already begun to plan out new ways to get involved in the community. Next up for the health office is getting a board up with educational and helpful material that caters to what students need.
"Right now we are working on getting a bulletin board up outside the offices but are still brainstorming what material to put up. We want to make sure that the material we put up helps students and provides a valuable resource that the community is currently lacking," said Karschney.
Karschney and Finn love it when students come in to introduce themselves and are looking for students to give them ideas on what to put up.
"I love when students come in and visit. They don't have to be sick to come on in and say hi," said Karschney.
About the Writer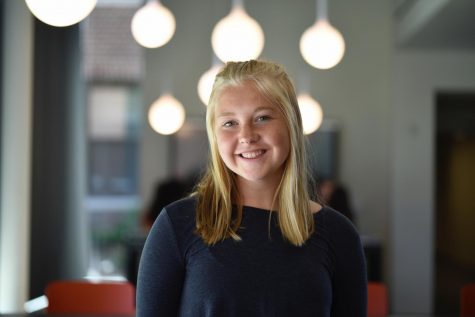 Emma Sampson, Sports Editor
Emma Sampson is the Sports Editor at RubicOnline. Going into her third year on staff, she is excited to edit and publish in a section that she is passionate...