New head coach brings excitement to United Hockey
They waited. And waited. And now, finally, they have a coach. Finding a hockey coach is an important job, and the girls of United Hockey waited patiently. The St. Paul Academy and Summit School/Visitation co-op took their time replacing the head girls hockey coach Carrie Holldorf, who resigned at the end of the last season.
"Hockey coaches are hard to find," SPA Assistant Director of Athletics Mike Brown said. Brown worked to find a new coach along with Athletic Directors Peter Sawkins of SPA, Mike Brill of Visitation, SPA boys hockey coach William Owens, and SPA Upper School Principal Chris Hughes.
The long wait left some of the hockey players wondering if they would ever find a coach. "I was a little worried that it was taking so long but I knew it was because they were taking their time finding the right coach," sophomore hockey player Andrea Olson said.
United put an end to the waiting by hiring David Cole as the new head hockey coach late in August.
Cole comes from a strong athletic background, as he played hockey as a goalie at Williams College. According to Cole, his wife was the one who got him into coaching in the first place.
"I was living in New York City on a fine arts degree. My wife, who was working for a sports club, suggested I coach for Joe Espinosa, a youth sports club. For seven years I coached kids and ran summer clubs, for all different kinds of stuff. I loved it," Cole said.
With a special interest in coaching hockey, he went on to work with National Hockey League teams the Atlanta Thrashers and the Tampa Bay Lightning, focusing on fan development. He then went to coach for The Blake School under the late legendary hockey coach Brano Stankovsky and is owner and head coach for Cole Hockey Systems.
His extensive resume in hockey has impressed many of the players. "His greatest strength is his ample experience in the hockey world," senior hockey captain Alev Baysoy said. "Through working with players who ranged from the youth level to the professional level, he carries years of experience with him on the ice. He has great knowledge of the game and I think that he will really make a positive transition for our team this year."
Cole enjoys coaching girls hockey because he appreciates the social fabric holding the team together, which he believes holds more power in girls hockey. "It's like a family," Cole said.
He admires the United team especially because he believes they have a lot of potential: "I think there's a lot of talent on this team. This is a team I wanted and coveted for a long time."
As a new coach, Cole is especially interested in establishing the culture of the hockey program. He assigned hockey players homework to put together an acronym for what they think United Hockey stands for to get their opinion on the culture of their team.
An interesting aspect of Cole as a coach is that he was a goaltender and a goalie coach for much of his hockey career. "I think it's really unique to have a coach who was a goalie," freshman hockey player Clare Tipler said.
Cole plans to tie his experience in goalkeeping into his coaching style,which he describes as "very energetic, including a lot of cross-referencing with music, art, and politics."
One of Cole's goals for the hockey season is to have fun. "Teams should have peaks and valleys, but if you're not having fun then what's the point?" Cole said.
Sophomore goaltender Catherine Johnson appreciates this about Cole. "He is very energetic. If you're having a bad day he will be able to cheer you up," she said
Baysoy predicts that Cole will make a good impression on the team. "I think that the team will love him and the assistant coaches because they are great people who really know how to interact with their players," Baysoy said.
While Cole lists fun high on his agenda for the season, ambitions are also high among the United hockey team for this season. After losing to Totino Grace in their second playoff game last season, the team hopes to make it even further this winter.
"Hopefully we will make it to state this year; that is my ultimate goal and I know that with Coach Cole's help, we can achieve it," Baysoy said.
About the Contributor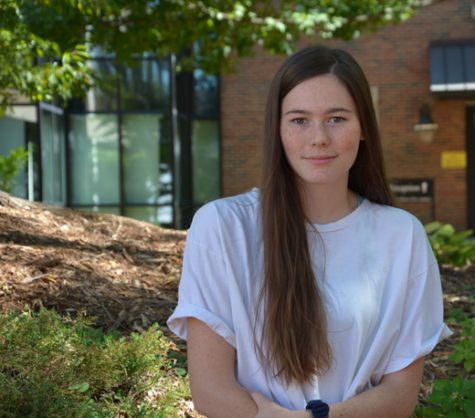 Mari Knudson, Graphics Editor / Aureus Asst. EIC
Mari Knudson is a senior member of the staff, a dedicated student athlete, and the Graphics Editor for The Rubicon this year. She is also Assistant EIC...