Reggie Leflore
Over the chaotic summer of 2020, the Twin Cities experienced a rage of raw emotions towards the racial injustice that was happening through the Minneapolis Police system, and throughout the country. Through the riots, fires, protests, marches, sit ins, and gatherings, there has been continuous art appearing throughout the cities. This artwork specifically looking at murals, shows the raw emotion that is felt through communities in the twin cities.
One of the most active artists in our community is Reggie Leflore, he is a black artist who started out with large canvas paintings and then moved to murals. During the peak of the protests in the Twin Cities because of George Floyd's death, Leflore was working on a project in Minneapolis. He expressed frustration for the pressure that he and other artists were receiving to only do artwork related to the news and events of that time.
He said "I've been very annoyed with all these requests for me to make activism artwork that are blanketed with disingenuous half assed "hey I hope you're doing well" texts and messages that have conveniently stopped after a few days. So please forgive me for not wanting to create art that reflects our country's issues with black folks. I'm still traumatized by it all".
Of course artists feel this way, but it is important to acknowledge the pressure that especially artists of color receive in order to create artwork that only pleases the public.
One specific piece of work that Leflore did last winter was meant to represent the lack of black representation in our state (image ). He expressed the ignorance towards black communities in the North Side of the cities. How their lives and well being is almost forgotten. Leflore is an artist who struggled to continue his work when the Black Lives Matter Protests began this summer. But a lot of mural-focused artists thrived in the new environment.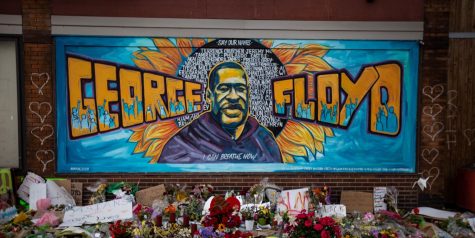 One of those artists was Xena Goldman, she created the unforgettable mural of George Floyd (image 2), that now is the center art piece in the memorial of George Floyd on Chicago and 38th St. The hope of the mural was to commemorate the life of Floyd, to ensure that the place that he was killed will forever be a place of remembrance.
Murals are a way for artists to leak out creativity and have it on view for an entire city. The Murals in Minnesota bring the twin cities to life. Especially during one of the most chaotic moments in our state's history, murals were able to encompass what our people were feeling. Their raw emotion was painted onto city walls. They give color to a gray landscape. They make the viewers think of who their community is. They are able to show joy, but also bring sorrow. They have endless possibilities. They are able to bring a community together or tear them apart.