MSHSL fights racism with new initiative
The Minnesota State High School League has announced an initiative to fight racism after recent cases of discriminatory behavior during high school games across the state.
Racist taunts and behavior from Minnetonka High School and New Prague High School during the current winter sports season have attracted attention and prompted calls for change and additional regulation from community members.
"It's upsetting to say that hearing and learning about racism within Minnesota sports is no surprise. Although there seems to be an increase in the amount of racial 'incidents' happening within Minnesota sports, such as the case with New Prague, racism in sports has been a long-standing problem. This is an issue that needs to be addressed, and it's frustrating that racism in sports is only beginning to gain awareness now," junior Naysa Kalugdan said.
In early February, a white player on the Minnetonka girls varsity basketball team was accused of calling three Black students a racial slur. Soon after, on Feb. 15, members of the New Prague High School community reportedly directed racist comments and "monkey noises" towards African American players and staff members in both a girls basketball and boys hockey game.
"
It's upsetting to say that hearing and learning about racism within Minnesota sports is no surprise […] This is an issue that needs to be addressed, and it's frustrating that racism in sports is only beginning to gain awareness now,
— Naysa Kalugdan
Since then, students, family members and administrators have taken action, including Robbinsdale Area Schools and St. Louis Park High School, declaring that they will no longer compete in athletic events against New Prague. New Prague superintendent Tim Dittberner also made a statement regarding both incidents and said the cases were dealt with immediately
Following these events, the MSHSL responded with their intentions to address the long-lasting issue of racism in schools and athletics. MSHSL Executive Director Erich Martens presented the details of their plan to the Minnesota House Education Policy Committee on Mar. 7.
According to Martens, part of the league's plan includes educating school leaders, providing policies to outline consequences for prohibited behavior, bringing together groups of students to develop a code of conduct and partnering with other organizations to create a student conference focused on fostering safe and welcoming school environments. MSHSL representatives are also hoping that the initiative will prevent instances of racist behavior, help hold violators accountable, and aid in supporting victims.
"Similar to other situations that may take place in school, being prepared is the first step. Following that, it's critical that if a situation does occur, the appropriate actions [are] taken. And finally, that the school leaders follow through effectively after the event," Martens said. "Providing support is every bit as important for those students and others who have been victimized as it is to investigate and address the perpetrators of these actions."
The MSHSL, which governs the athletics, debate, and fine arts programs of more than 500 schools across the state–including Minnetonka and New Prague–acknowledges that much work is needed to ensure that students and athletes feel safe and respected. With St. Paul Academy having an MSHSL membership, the athletic department is hopeful for the future of Minnesota athletics.
"I hope that this spurs action on all of the parts of the athletic departments, the schools, the administrators, and most importantly, the students. Not everybody is going to come from the same background, but we can have a certain base level of respect for and treatment of one another," Upper School athletic director Ken McNish said.
SPA's athletic department prides itself on the current policies in place for both preventing and handling behavior or comments that target players and spectators based on race, ethnicity, and sexual orientation. Due to this, they do not expect significant policy changes will be necessary once the initiative goes into effect.
"We start with preseason meetings about what our community is about and what we tolerate and don't tolerate, but certainly, if [these issues] ever come up, we attend to [them] appropriately. We've been pretty fortunate, and I think that has a lot to do with what we do for our community," athletic director Dawn Wickstrum said.
In addition to providing support to those impacted by disparaging comments and targeted behavior, the administrators take disciplinary actions very seriously. "There is a careful approach to that to make sure that it's not just about don't do this again, it's about what you did, and questioning why you did it in the first place. There has to be an understanding of the impact that has on an individual and group in our community and why that's not welcome here," McNish said.
While the initiative is a step in the right direction, many are cautious about seeing it as a solution. "It's not enough for us to hear about these incidents and turn a blind eye, and it's definitely not enough for one anti-racism policy to eliminate all racial injustices in sports," Kalugdan said. Kalugdan believes parents have to initiate conversations about privilege, discrimination, and diversity with their children, coaches cannot tolerate racism on their teams and student-athletes need to advocate for themselves and speak out against racism.
Though, as Kalugdan highlights, many additional measures need to be taken alongside the creation of the initiative, the MSHSL hopes it will provide a foundation for safe and welcoming athletic environments and that its effective enforcement will cause players, parents, students and administrators across the state to reflect on how they can contribute to positive growth and change.
Leave a Comment
About the Contributor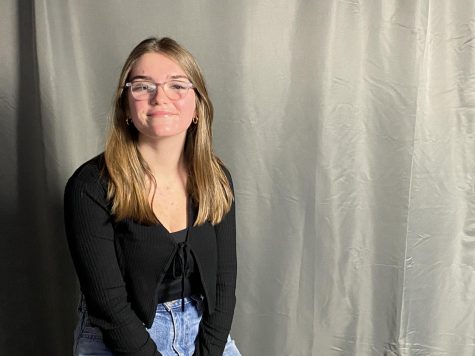 Ali Browne, Production Manager
Hi! I'm Ali Browne, and I'm the Production Manager for RubicOnline. This is my third year on staff and in the past, I have been the feature editor and...