Photo submitted by Lauren Osteraas
[MORE TO ME] Osteraas treasures missionary experience
Everyone has things they like to talk about, or don't enjoy talking about certain things that happen in their life. People naturally don't speak about things when they do not share a common interest. But everyone has more to them than what might be seen.
Senior Lauren Osteraas spends time over the summer to go on missionary trips with her church, and her most memorable journeys were to New Orleans and Guatemala.
"We go all around, but usually we stay in the US, and I have been to Guatemala as well," Osteraas said.
Osteraas painted houses in both places, yet she recalls nearly dying while driving up a mountain in New Orleans, while she greatly enjoyed her trip to Guatemala because there were less traumatic memories.
"We went to help with hurricane relief in New Orleans, but in Guatemala, we did missionary work in villages and played soccer with kids and installed stoves inside houses," Osteraas said.
"
I was sitting in the back of a pickup truck and there weren't any seatbelts, so when the driver made quick and tight turns my heart raced."
— Lauren Osteraas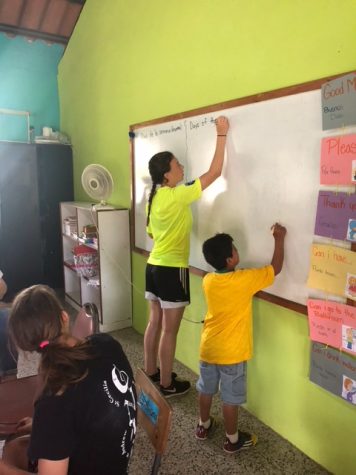 Osteraas held a unique position among the church members that visited Guatemala because she served as the official translator for the group. As the translator, Osteraas would spend a lot of her time with the Guatemalans. In addition, her missionary group installed ovens in their homes because of the previous cooking styles that made the locals ill.
"It was very fulfilling to able to communicate with kids in their native languages and prevent illness for future generations in Guatemala," she said.
Osteraas cherishes her opportunity to help people while engaging in her church community to strengthen their bonds. The missionary trips Osteraas goes on allows her to spend time helping others, explore parts of the world, and give her valuable experience that she treasures.
More to me is a monthly feature that uncovers a unique facet of a student that other students might not know. If you would like to be featured or have a suggested student for a feature, please contact Tristan Hitchens-Brookins.