Moen de-stresses with Trivia Nights
"The line 'Houston, we've had a problem' was famously uttered aboard what troubled spaceflight?"
 The sweat beads on his forehead and his breath quickens as the buzzer counts down the seconds until the final answer. He's surrounded by his close friends, all scrambling to find the correct answer against the other teams in the restaurant. This is exactly what senior Max Moen does not go through while participating in trivia nights, because contrary to what some people think, they are a unique, stress free experience. Trivia nights are one night a week dedicated to testing a person's intellectual stamina on a variety of topics, while maintaining a care free attitude that many people enjoy after a long day.
"
It's a fun environment to hang out with your friends and just eat some good food, hang out with good people, and answer some trivia."
— Max Moen
"My favorite thing about it [trivia night] is that it's a good time to reconnect and to get out of the stress of the school week and just have fun for a while. It's not as passive as watching Netflix or something, but that's what makes it so fun — it's engaging and a chance for everyone to use their knowledge and talents," Moen said.
Moen has dabbled a little in the joys of trivia night throughout the Twin Cities. Being the president of the Quiz Bowl Club at school, he is well versed in the mechanics of trivia. Moen recommends triviamafia.com to find trivia nights located throughout the area. He attends trivia night at Pizza Luce in Richfield most often because of the chill and fun ambiance. The restaurant always stays the same, but a small designated place is sectioned off for the people who want to participate in trivia night he said
Since he participates in both quiz bowl and trivia, Moen can clearly articulate the difference: "Quiz Bowl and trivia are different because Quiz Bowl is more academic while trivia is a bit more pop culture which makes it really fun."
Moen has never won anything, but usually there is a pooled cash prize. Moen said that the oddest prize that he has seen is an old, random book that the restaurant owner had. The trivia focuses on different decades, especially the 70's, 80's, and 90's which sometimes makes it hard for Gen Z's to keep up. Moen usually doesn't prepare for trivia night since to him, it's just a time to catch up with friends.
Moen first got into trivia nights because of his friend, Henry Vlietstra, who is a big fan of the pastime.
"Henry has always been super into trivia and came into play practice one day and invited us all to go to trivia night with him, so we went as a cast and bonded," Moen said.
Moen has only gone three times since then because he has been so busy with school and extracurriculars, but he hopes to continue to do more of it this year and well into college. Moen's favorite thing about trivia night is the social aspect. He loves the fact that it can provide a sense of relief from stress, and since it's not passive, everyone stays engaged and has a good time.
"It's a fun environment to hang out with your friends and just eat some good food, hang out with good people, and answer some trivia," he said.
About the Contributor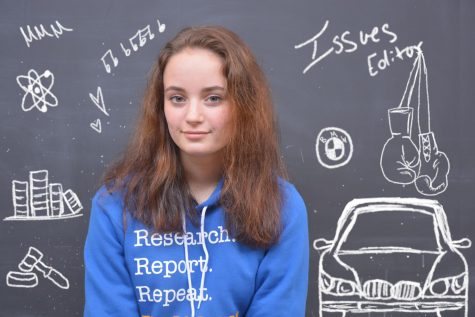 Meagan Massie, The Rubicon
Meagan Massie is the Issues editor on The Rubicon. This is her third year on staff. She is passionate about providing a diverse perspective on the way...