MLK day assembly educates community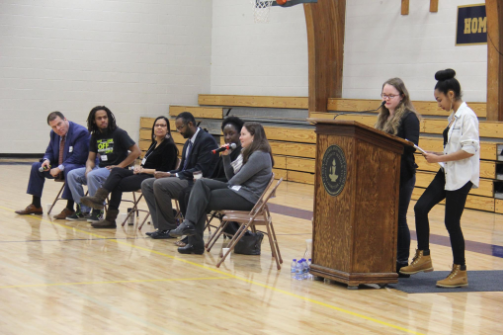 Martin Luther King Jr. led a revolutionary nonviolent movement in the 1960s, wanting nothing more than to "let freedom ring." In memory of King's tremendous strides in fighting racial inequality and to encourage further progress, St. Paul Academy and Summit School students gathered before a panel to discuss racial issues on Jan. 12 in an assembly organized by Common Ground and Intercultural Club. In order to continue and encourage further thought, the conversation from the assembly was then carried into the classrooms for follow up discussion Jan. 13.
The panelists were criminal defense attorney Paul Applebaum, hip hop artist and victim of police brutality Chris Lollie, public policy advocate Lonna Stevens Hunter, executive director of CAIR-MN Jaylani Hussein, SPA alum and intern with Bowdoin's Dean of Multicultural Affairs Ashley Johnson ['13], and Sarah Herder Education Director at The Advocates for Human Rights.
The assembly was a question and answer session, and students had the opportunity to learn from a range of different experiences with race, answering questions about everything from the underreporting and jurisdiction issues concerning rape of Native Americans to police brutality to what allies can do to help work towards racial equality.
"I liked [the assembly]. Hearing from a lot of voices, it feels like comparatively it was a lot better, just because we were getting diversity instead of a single speaker talking at us. There were different opinions and it was something that we could interact with," senior Em Prozinski said.
Sophomore Wyatt Bliss agreed that it was a unique experience to hear from so many people. "The diverse perspectives [at the assembly] were all very motivating," he said.
Junior Elena Youngdale said that she saw the need for the assembly and the later discussions, but that there was room for improvement. "Honestly [the assembly] was a little bit repetitive of other things we've heard before. I do think it was necessary, but it felt a little bit distant," she said.
"
There were different opinions and it was something that we could interact with."
— senior Em Prozinski
Youngdale said that the root of the problem with the discussions was how "We were asked questions. We were all locked in a Harkness room and someone came along with a sheet of paper [with questions]. It just seemed a little bit robotic," Youngdale said.
While Bliss said that he found the assembly to be productive, he also felt that the discussions didn't work very well. "The discussions would have been better if they were smaller. There were too many people," he said.
Prozinski agreed that the discussions weren't very effective. "There were definitely people who didn't say anything, whether they were afraid to voice their opinions or something else," she said. "We spent half of [Honors] Music Seminar talking about it, talking about a lot of different issues around race  or the way media portrays race. I almost feel like in classes, people are more comfortable sharing what they thought."
It's been half a century since King gave his I Have A Dream speech, and while his dream may not be fully realized yet, this assembly and these discussions aimed to educate in order to make progress towards racial equality.
About the Contributor
Meghan Joyce, Chief Visual Editor
Meghan Joyce serves as the Chief Visual Editor for The Rubicon. Meghan is a senior at St. Paul Academy and Summit School, and this is her third year...